From Bluffton to Yale
05/05/2020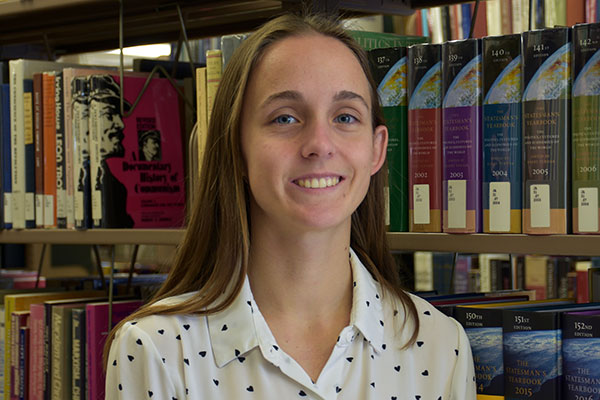 2020 graduate bound for the Ivy League
As a freshman, senior Alexis Cash chose to major in Speech-Language Pathology and Audiology out of a desire to serve others. This fall, she will be attending Yale Divinity School to earn her Master of Divinity. While she discovered a change in vocation during her four years at Bluffton University, Cash's focus remains on serving others.
"In either my sophomore or junior year I decided to declare a Bible and theology minor. I thought I was crazy," said Cash, who is from Gaines, Mich. "What does the Bible have to do with SLPA? How do I combine the two? My SLPA classes were interesting, but I found a passion in learning about the Bible."
Cash originally applied to small graduate schools to further pursue her flourishing interests. However, Dr. Alex Sider, professor of religion, encouraged her to reach for the Ivy League.
After preparing her admissions materials for months and being accepted to several other schools, including Princeton, Cash received the letter she was waiting for.
"Finally, I heard from Yale who is offering me almost full tuition," said Cash.
While she's not sure if she wants to become a pastor, professor or missionary following graduate school, she does know she wants to, "open hearts, open minds and open doors," in accordance with the United Methodist Church motto.
For Cash, the reason is personal. Around the same time she had decided to focus on her faith as a calling, the United Methodist Church voted at their 2019 General Conference to adopt the Traditional Plan rather than the One Church Plan or Simple Plan. The Traditional Plan does not allow for the ordination of LGBTQ+ UMC pastors. It also does not allow for UMC pastors to marry LGBTQ+ couples.
"The same time the church was making these decisions, was the same time I started coming out to my friends and family," explained Cash. "It was a light switch for me. This energy sparked a passion inside of me for those who are excluded from the church. God loves all children, and every single person on this Earth deserves an opportunity to know God."
A passion and desire to be a student-athlete led Cash to Bluffton University. While she visited several schools, Bluffton "felt like home."
Cash was recently recognized as the Female Athlete of the Year at Bluffton. She is a two-time Heartland Collegiate Athletic Conference women's cross country champion and an HCAC women's track champion in both the 3,000 and 5,000 meter runs. The first race she ever won was the cross country championship her sophomore year.
"I have had major success as a person and an athlete because of running," said Cash, who admitted there were times she thought about giving up athletics. "But you become successful when you push through the temptation to stop and you instead 'enjoy the grind' as Coach [Logan] Wells says. Being successful means accepting the fact that it is going to be hard, and still loving the experience."
The recognition she is most proud of earning is NCAA All-Academic. "I worked hard for it. Keeping grades up is vital, so I was sure to get homework and studying done while balancing my athletic and social life."
As she moves on from Bluffton, Cash has a few parting words for her fellow Beavers. "I pray that everyone stays safe and well. That the experiences we have in our coming lives are rewarding and filled with love for others. God bless each of you."