Micayla Hanover '18
03/07/2018
Senior explores peace and self through cross-cultural experience
Students at Bluffton University are encouraged to expand their worldview through cross-cultural experiences that provide first-hand interactions in new and different cultures. Micayla Hanover '18, from Sidney, Ohio, traveled more than 3,000 miles to attend Maynooth University in Ireland during the fall 2017 semester, gaining a broader view of Irish culture. Through the experience, she discovered more about Irish history, conflict avoidance and her own personal development.
"I've always wanted to go to Ireland," said Hanover. "It was always a dream to at least visit, so when I got the chance to study there, I took it."
An English and public relations double major, Hanover spent three months studying abroad by taking part in a semester-long program through the Brethren Colleges Abroad.
She was drawn to the "magical and mystical-ness of Ireland," as well as the country's rich cultural history. During the experience, Hanover received a certificate in Irish cultural heritage, which involved "studying the process of how Ireland became the country that it is and what aspects of the country make it truly Irish."
While there, Hanover also took part in a conflict and peace resolution course that reshaped the way she saw conflict both in Ireland and back home in the United States. Keeping in mind that there are "two different sides or maybe multiple sides to a story and how to meet in the middle" were central to her study.
"That's one thing that I've been trying to pass on since I've come back," she said. "I'm trying to get everyone to better listen to each other in my friend group, and I'm trying to get everyone to meet in the middle to prevent a huge conflict."
While in Ireland, Hanover was forced to explore a new place while on her own, which can be intimidating. "I think the challenging part was to find new friends, to be sociable and to find new people to talk to," she said.
Hanover discovered more about her own self through her travels to Northern Ireland as well as a week-long trip by herself to Scotland. "I had a lot of alone time, which gave me time to figure out who I was as a person and who I want to be in the future," she said.
Upon returning from Ireland, Hanover "came back a completely different person."
She encourages other students to take trips on their own; ones that will offer the traveler the opportunity to explore both a new culture and oneself. "This trip really helped me figure out more about myself and internalize who I am as a person and how I want to portray myself to others," said Hanover.
-B-
Cara Echols '19, PR student news writer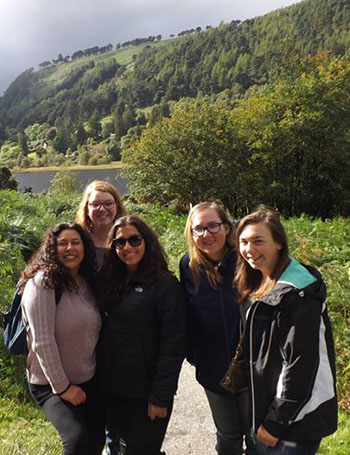 "This trip really helped me figure out more about myself and internalize who I am as a person and how I want to portray myself to others."