Prepared for the future
01/09/2019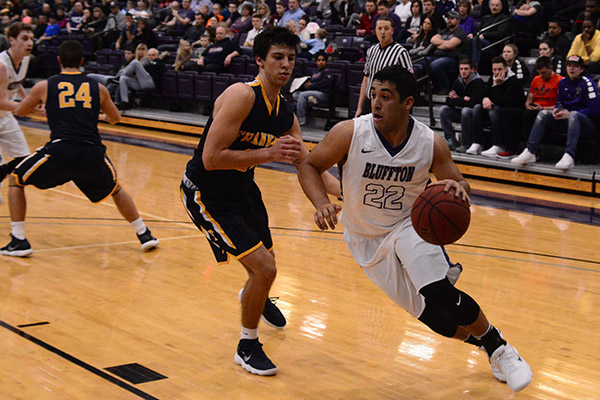 Justis Dowdy has a long history with Bluffton University. His parents are graduates, so is his sister and brother-in-law and soon he will join their ranks.
"I'm ready to start looking for jobs," said Dowdy, a senior sports management major and member of the men's basketball team. "I feel prepared and I owe a lot of that to Coach Neal. He's helped make me a better man."
Dowdy grew up on the hardwood at Bluffton, watching the college games with his dad, a 1990 graduate and former director of multicultural affairs. The two even share a coach. Darryl Dowdy's senior season was Coach Guy Neal's first.
"I always saw Coach Neal on the sidelines and that made a big impact on me coming here," said Dowdy. "But Bluffton was also a great fit for me. It's a small community and a great college."
At Bluffton, Dowdy can almost always be found in the Sommer Center. It's where the basketball team plays and practices, the location of many of his classes and the site of many competitions he oversees through his campus job as intramural coordinator. Events range from 5 on 5 basketball—which Dowdy credits as the most popular on campus— to newcomer spikeball.
"I set up games and tournaments, I email the teams and I make sure everyone is having fun and being safe," explained Dowdy.
Hoping to work as an athletic director or with the NBA one day, Dowdy completed an internship with the intramural program and will complete another this spring with Bluffton High School's athletic director.
He credits Coach Neal and Tami Forbes, chair of the health, fitness and sport science department, with helping him succeed on an off the court.
"Coach really focuses on class. I don't think I would have the GPA I have right now without him, and Tami, she's really taken me under her wing," said Dowdy. "I enjoy my classes. I enjoy the professors. They get you excited about class and teach you what you need to know."