Ceramics Students
01/18/17
Students fire pottery in kiln they built
Bluffton University students who took ceramics in fall 2016 not only created bowls, plates and vases during the semester, they built a kiln to fire their pieces in. The project was spearheaded by instructor, Ralph T.R. Steiner, based on plans originally drawn up by Gregg Luginbuhl, a professor of art at Bluffton for 30 years before his retirement in 2014. Luginbuhl passed away in the fall.
"I think it is part of Gregg's legacy here at Bluffton," said Steiner. "Gregg started that kiln; he just wasn't able to complete it. So we completed it for him."
Steiner was Luginbuhl's student when he taught in Findlay.
The outdoor kiln, a 20 cu. ft. cross draft style kiln, is used to create soda ash fired pottery. Although the soda kiln body differs little from other kilns, it varies in its function as it solely fires soda ash pottery. "It's the glaze that's being used that makes it a soda kiln," said Steiner. "When soda ash is introduce into the hot atmosphere toward the end of the firing it vaporizes, and it's that vapor that coats everything in the kiln – the pots, shelves, props, everything."
Many of the parts for the kiln construction, including the bricks, were reused from other projects. Students cleaned the bricks for use and constructed the kiln under Steiner's supervision.
"I was able to add bricks to the walls and also to the roof. Adding the curved bricks to the roof was the most exciting part of the building process for me," said Connor Samuel, a senior business major from New Knoxville. "I do admit that I had my doubts that the roof wasn't going to work, but of course once we knocked down the supports the roof stayed in place!"
"We made our own slip compound to join the bricks to build the kiln, and it was nice to see all of those bricks reused," said Cara Echols, a sophomore art and writing major from New Bremen. "One day I spent a good hour preparing bricks for the kiln project."
Steiner describes the firing process as a form of controlled chaos, with the outcome of the pottery more organic in nature. "You make your pot, send it to the kiln, and you just let the kiln take over from there and put its mark on the pot. It's more of a natural process, not a planned, methodical process," said Steiner. "Many times the results are better than you ever thought or dreamed of."
The art department hosted a celebration during the first firing, and students were pleased with the results.
"My pieces have a very earthy and rugged-type look," said Echols. "They have a country charm to them."
"I made sure to add pieces to the first firing because I wanted to see what would happen, and also to see the difference in outcomes between the two kilns we have," said Samuel. "Building the soda ash kiln was an experience that I will probably never forget."
-B-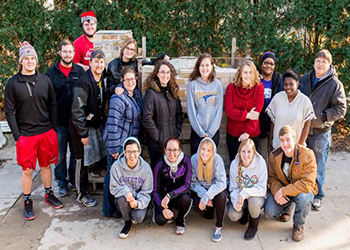 "I think it is part of Gregg's legacy here at Bluffton. Gregg started that kiln; he just wasn't able to complete it. So we completed it for him."