Micah Roberson '17
12/18/2017
Senior excels after nearly giving up
Micah Roberson, one of the most highly decorated athletes in Bluffton history, nearly gave up the dream of going to college. After reaching out to programs late in his senior year of high school, Roberson originally didn't hear back from any, and he began doubting his ambitions. Then he answered a call from Bluffton.
"Bluffton is the only place that accepted me, and that's been my drive since," explained Roberson. "I've always felt like I owed something to Bluffton because I don't know where I would be if I wasn't here."
The exercise science and strength and conditioning double major from Ada, Ohio, walked at Commencement in May 2017 and completed his coursework in December.
Medically red-shirted after he was knocked out with broken ribs during the first game of his freshman season, Roberson cemented his legacy at Bluffton with a career 335 catches, 3,602 yards receiving and 31 touchdowns. All of those statistics are at the top Bluffton's career record books with the catches more than doubling the previous record.
"The coaches have all the faith in the world in me and my teammates, and it's good knowing that you have someone in your corner when you play," said Roberson. "Knowing that someone has faith in your abilities is just really awesome."
Undecided about a major upon coming to Bluffton, he found direction in the Sommer Center. "I lift every day," said Roberson. "I love exercising, and I think it is a perfect fit."
Along with his coaches and teammates, Jacqui Slinger, director of academic development services, has also been a major influence at Bluffton for Roberson.
"She's always helping me out with all my classes, and if I didn't have her for a class, I knew I could still contact her and she would be there for me," said Roberson.
As he looks back on the past four and a half years, he is thankful for the opportunity he was given. "I've had a great college experience; I'm happy and grateful that Bluffton chose me."
Now, Roberson encourages others to pursue higher education and to keep working in the midst of adversity. "I can't image where I would be at right now if I didn't come to Bluffton," he said. "Going to a small school or big school, it doesn't matter. If you have the opportunity, then you should go."
-B-
Cara Echols '19, PR Student News Writer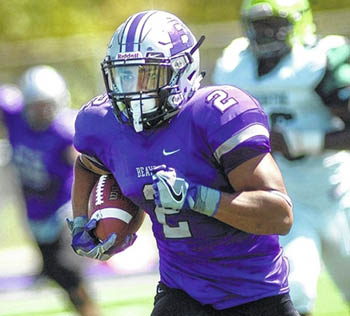 "I've always felt like I owed something to Bluffton because I don't know where I would be if I wasn't here."