"Bridge" Literary Journal
12/07/17
Bluffton University's literary journal goes digital
The second edition of "Bridge: The Bluffton University Literary Journal"is now live. The fall edition, hosting stories, prose and poems from 16 of "the best young writers ages 14-24," expands into the realm of digital publication. With 195 submissions from Albuquerque to South Africa, the magazine's presence continues to develop among the global community of young writers.
"I'm excited for 'Bridge' to continue to grow in popularity and reach more people who haven't heard of it," said Danielle Easterday, a freshman writing major from Barberton, Ohio.
Beyond publishing their work, 'Bridge'offers young writers encouragement and validation. Hoping to ignite more enriching writing opportunities, the magazine seeks to offer young writers a chance to have their voice heard in a growing literary world.
"I hope people recognize that not all writers have to write books to be published," said Alissa Hauke, a senior art and writing major from Leesburg, Ohio. "I want people to see there are many directions a writer can take, and there are so many types of writers around the world."
The online edition offers more opportunities for submissions and broadens the base of submitters. Publication of new literary mediums, such as art, comics and graphic literature, are also in development for fall 2018's online edition.
"I believe going digital will help readers look at the work from a different perspective," said Jonah Eckert, a junior psychology major from Terre Haute, Ind. "In some ways, it will benefit readers and writers more because of the many opportunities to connect with the authors online and to post comments to a particular piece."
While 'Bridge' offers young writers a chance to be published, the publication also serves as a way for Bluffton students to gain resume building skills and experience.
"Most literary magazines have an online presence," said Jamie Lyn Fletcher, assistant professor of English. "Both the print and online editions of 'Bridge' allow Bluffton students to experience the world of publishing while they are still in college. Because of 'Bridge,' students will have publishing experience on their resume so that they're competitive professionally--when they graduate and enter the workforce, and when they apply for internships, externships and fellowships while they are still students."
More than a dozen Bluffton students served as student editorial associates for the magazine's second edition, working directly with submissions and contributing authors, developing cover art and promotional materials, and assisting Bluffton's public relations office with the launch of the magazine. The art for the fall edition was designed by Bluffton art and writing major Brista Drake.
'Bridge'is published twice a year and submissions are accepted year round. The deadline for the spring print edition is Jan. 31, 2018. Young writers are invited to submit fiction, poetry, drama and nonfiction in addition to new categories in art, comics and graphic novels, and literature.
-B-
Cara Echols '19, PR Student News Writer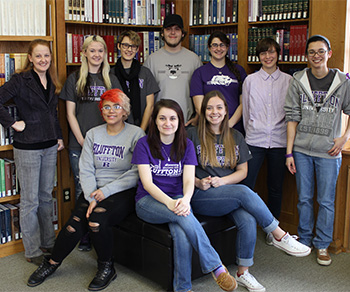 ---
"I hope people recognize that not all writers have to write books to be published. I want people to see there are many directions a writer can take, and there are so many types of writers around the world."