Janean Shannon '86
12/07/2016
Bluffton employee/alumna doubles as an international track star
Bluffton alumna, assistant to the business manager, grandmother of six and nationally and internationally ranked heptathlon medalist Janean (Franklin '86) Shannon continues to conquer. Shannon admits she has an obsession with track and field and it continues to grow with age. "I'm sticking with it; I'm going to keep doing it, pushing to improve."
In high school, Shannon competed in sprints and the long jump and went to the state track meet all four years. While getting her degree in business administration, she continued to compete and even held Bluffton's long jump record for more than two decades (1983-2004).
After graduation, she found few opportunities to challenge her athletic prowess, until two years ago when she discovered USA Track and Field's Masters program. The program offers a variety of competitive opportunities for athletes 30 years and older. Shannon also discovered the National Senior Games which is open to competitors 50 years and older. Now, she's a regular competitor for both programs.
In October, she even had the opportunity, through USA Track and Field, to compete in the World Masters Athletic Championship (WMAC) in Perth, Australia, in the heptathlon (100 meter hurdle, high jump, shot put, 200 meter sprint, long jump, javelin throw and 800 meter run) for her age division (50-54). "It's been an interesting year, I'd never even left the country before, never been even to Canada. So it was a lot of work."
"My goals keep changing," said Shannon. "From wanting to do well at a state meet and make it to nationals, to winning nationals, to now of course I want to do better at world."
While heptathlon is more common internationally, the pentathlon competition is more common in the United States. To compete in the pentathlon at the USA Track and Field games, she had to master three new events: high jump, hurdles and 800 meter.
"I had never high jumped – of course I'm short so it was something I never thought about doing," she said.
The competitions keep her busy. Within the 2015-16 season, Shannon has competed in the National Senior Games in Minneapolis, Minn.; the indoor games in Albuquerque, N.M.; the USA Track and Field national games in Grand Rapids, Mich., and the WMAC in Australia. She was eligible for the world games after placing first at nationals for both the indoor and outdoor pentathlon and long jump.
"When I found out my pentathlon was ranked fourth in the world for my age, I started debating and finally decided I was going to the world games in Australia," said Shannon. There she advanced from the pentathlon to the heptathlon. Shannon took sixth place in the World Master heptathlon and fifth in the World Masters 300 meter hurdles, which she had only competed in once previously at nationals.
Currently, Shannon's heptathlon and pentathlon are ranked number one in the U.S.
"If you would have asked me a year or two ago I would have never dreamt that I would be doing this," she said.
Now 54, Shannon continues to push herself both on and off the track. She uses her lunch breaks to stay in shape and to practice. She even spends some of her evenings back with the university's track and field team. "I've been able to go to the practices with the shot put team here, and I'm hoping to go to more practices with the high jump and the sprinters. That will be new for me," said Shannon.
As she continues to get older, she sees the need to keep her body active. She encourages her grandchildren to pick up sports and activities that are also practical for the future. "Try to do something you might enjoy as an adult to keep active," she tells them. She also encourages other older athletes to give competition a try. "You don't really know what you're capable of until you really try," she said. "I never would have dreamt that I would have gone to the world games, especially the older I got."
With perseverance and passion, Shannon continues to focus on improving her records and plans to take on the 2017 world games in Spain. "I tell my husband I plan to live until I'm 100, so I plan on doing these events until I can't. In my mind you need to stay active."
-B-
Cara Echols '19, PR student news writer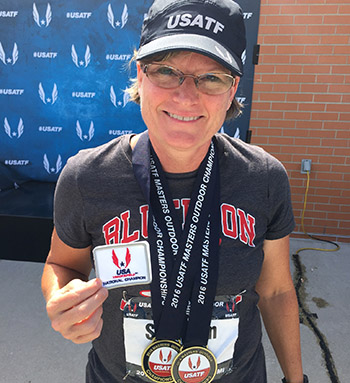 "When I found out my pentathlon was ranked fourth in the world for my age, I started debating and finally decided I was going to the world games in Australia."