Rebuilding hope
12/03/14
Rebuilding hope
Before celebrating Thanksgiving, Kevin Nickel decided to show his thankfulness by providing relief to families that are still feeling the effects of Hurricane Sandy more than two years after the deadly storm devastated the East Coast.
Bluffton's vice president for fiscal affairs spent a week with Mennonite Disaster Service (MDS) repairing homes in Far Rockaway, Queens, New York, for families that had given up hope their homes could be whole again.
Most homes in Far Rockaway weren't destroyed by the storm—which caused nearly 300 fatalities and $68 billion in damage in several countries—but many suffered extensive and costly damage. "When Hurricane Sandy came in, it wasn't so much that it tore roofs off or completely flattened homes, but most homes in that area had between four and eight feet of water in them," Kevin said.
He said that when government aid arrived after the October 2012 storm, relief parties tore out damaged parts of houses without also providing repairs. "Not everyone had insurance and a lot of contractors came in and required some sort of down payment," then left when the money for repairs ran out, he added.
For two days of his week in Far Rockaway, Kevin installed and mudded drywall in two homes where damaged material was removed after the storm but the owners couldn't pay for repairs.
Three more days were spent at the home of an elderly woman with physically limiting medical conditions. Her home had been partially repaired with available insurance funds but was still missing a kitchen and a bathroom vanity and sink. For over a year, she had been living in the house with only an old, damaged bathroom vanity as her kitchen. Kevin and another volunteer installed a new bathroom vanity and built a new kitchen by installing cabinets, countertop, a sink and appliances.
"It's hard to live when all you have is a small bathroom vanity and nothing else in the kitchen," he said.
"The Far Rockaway area is one of the poorest neighborhoods in New York City. Driving through, you wouldn't necessarily see a lot of exterior visual evidence of the storm, but on the inside of houses is where things haven't been finished. There's still work to do, and it's hard to see the situations in which people are living," Kevin said.
"The homeowners just can't see the work ever getting done," he added. "They're at the point two years later now where they're out of hope. They don't have the services they need in their own houses. It's not even renovating the whole house—it's making it a livable space."
MDS has mobile units established around the country to provide ongoing relief to victims of disaster, with volunteer opportunities ranging from one week to several months. A Nov. 6 article in The New York Times details the Far Rockaway project: http://www.nytimes.com/2014/11/07/giving/after-catastrophes-mennonite-disaster-service-helps-to-rebuild.html?_r=1.
Still fresh off his experience of rebuilding a community ravaged by natural disaster, Kevin recommends volunteering with the organization. "The only qualifications are that you have a willingness to help people," he said. "MDS is rebuilding hope for the homeowners who are out of hope at this point. It was a great experience, and I would encourage anyone who's interested to volunteer for a week."
-B-
Chay Reigle, public relations office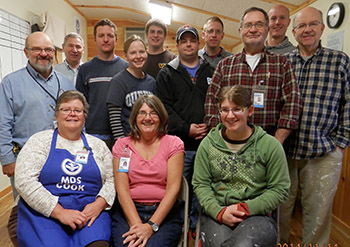 "There's still work to do, and it's hard to see the situations in which people are living."