Emily Griffith '18
11/14/17
Bluffton senior negotiates work-life balance through internships
After taking part in three successive internships, senior Emily Griffith, is gaining a lot of experience in the field of accounting, but she's also learning a lesson or two about juggling responsibilities.
"One thing definitely emphasized with all three internships has been work-life balance, which is something you don't really think about in college. I've become more aware of my priorities and see that it's important and something I need to have." said Griffith, an accounting and business administration double major from Marion, Ohio.
Griffith's three paid internships have allowed her to explore a variety of avenues she can pursue after graduation.
This fall semester, Griffith is interning at Marathon Petroleum Corporation doing internal auditing. Over the summer, she worked for the Ohio Auditor of State, where she focused on ensuring the funds of townships, counties and local schools matched the state's accounts. In the spring, during her first internship at Progressive Insurance in Mayfield, Ohio, she focused on statutory reporting.
"I loved reporting, but I did not enjoy auditing over the summer, but then I found I liked internal auditing at Marathon," she said. "How would I have ever known what areas I would like if I didn't actually experience it?"
Griffith views each experience as providing doors to further explore the field of accounting. She landed the first internship thanks to a trip led by the Center for Career and Vocation to CareerFest, Ohio's largest career fair, which is designed to help students network with employers.
"There's diversity in what you can do with an accounting degree," she said, viewing the different roles her internships have offered. "It definitely makes me feel reaffirmed that this is what I want to do, and there's so much flexibility with it, too."
Professors, including Dr. Jason Swartzlander, associate professor of accounting, encouraged Griffith to take an active role in determining her future.
"I had a conversation with Jason Swartzlander last year, before any of my internships, and he asked me, 'What do you want to do with your life?'"
Professors encouraged Griffith to take chances during her college career. Now, as an accounting tutor, she is also helping others find their calling. Her only regret about the internship is that she didn't have the confidence in her abilities sooner. "I wish I would have tried sooner. I started the second half of my junior year, but I could have been doing it earlier."
-B-
Cara Echols '19, PR student news writer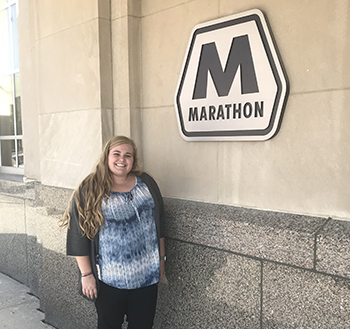 "One thing definitely emphasized with all three internships has been work-life balance, which is something you don't really think about in college. I've become more aware of my priorities and see that it's important and something I need to have."