Austin Every '17
11/01/17
Bluffton graduate interned at NASA alongside alumnus
By reaching out to a Bluffton alumnus, Austin Every '17 experienced the opportunity of a lifetime. The information technology major and graphic design minor from Zanesville, Ohio, earned an internship at NASA in Washington D.C. While there, he worked diligently to get the most out of his time, while utilizing the resources and people that were around him.
"I learned that you have to be willing to push yourself to go the extra mile and work even harder so it benefits you in the long run," said Every. "If someone is driven to reach their goals and better their career prospects, they will push themselves to do the most they can, and that's what I did."
Every had always been somewhat interested in space, but he never thought about working at NASA until he came across a story about Diego Rodriguez '04, who was named Bluffton's Outstanding Young Alumnus in 2016, through his work as a web assistant in Bluffton's public relations office. "I was reading the story as I put it on the website," said Every. "It caught my attention because he worked at the Washington office of NASA, and I was going there."
Networking with Rodriguez, Every soon realized a graphic design position would fit perfectly into his semester studying at the Washington Community Scholars' Center (WCSC). While the program required Every to intern four days a week, he chose to work five days a week to learn as much as possible.
Over the summer of 2017, Every interned in the Space Technology Mission Directorate (STMD) at NASA. He worked alongside graphic designers and social media managers to "get people excited about space technology in different ways."
One of Every's jobs involved creating social media posts about "spinoffs," which featured how NASA's technology is applied to domestic products.
"On Sunglasses Day I created a post that explained how the amazing technology NASA came up with is now used in ski masks," explained Every.
He also created videos and designed the 2017 Space Technology Mission Directorate calendar.
"I made it my goal to really work. If I didn't have anything to do, I asked for more work," said Every. "I wasn't just an intern stacking papers or going and getting coffee; that's the stereotype. It was a big worry of mine that I would not be involved, but I felt like I was needed."
Understanding that relationships matter in life, Every formed close bonds at NASA, just as he did while at Bluffton. "Bluffton is smaller so you get to know your mentors, I used that to my advantage even at NASA," he said.
During the internship, Every also reflected on the lessons learned while playing baseball at Bluffton, and he routinely used the words of James Grandey, head baseball coach, for motivation.
"He really means it when he says things like 'no excuses', 'what's done is better than what's said' and 'you never don't have time for something,'" said Every. "You have to push through the difficulties in life it because in the long run it will work out and people will appreciate your hard work."
Every is now a web content analyst at the Abercrombie and Fitch headquarters where he updates the website using programming languages and content management systems similar to the one he used as a student worker at Bluffton.
"I'm using everything I learned at Bluffton University and NASA in my career today. Thanks to those experiences I am reaching my goals."
-B-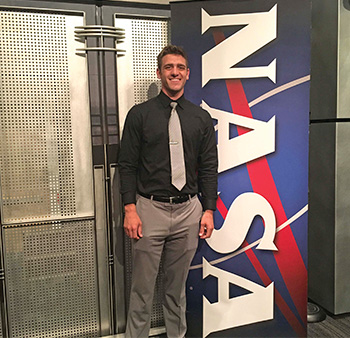 "I'm using everything I learned at Bluffton University and NASA in my career today. Thanks to those experiences I am reaching my goals."