Bradley Hardesty '20
11/18/16
Rubik's cubes and running, 16-year-old brings talents to Bluffton
At 16, many students are focused on getting their licenses and looking forward to their junior year of high school rather than considering their college careers. However, for Bradley Hardesty, college is already a reality. Hardesty has always been ahead in his classes, as he skipped fourth grade and entered high school at 12.
"Once I got into high school, I really started to notice it because I was two years younger than everyone else, but they all saw me as normal. And now that I'm here, a lot of people don't really notice that I'm 16, which is kind of weird because I think it's obvious," he said.
A freshmen mathematics and physics double major from Martinsburg, Ohio, Hardesty comes to Bluffton with a fast mind and even faster reflexes.
Hardesty's ability to solve a Rubik's cube in less than 20 seconds is a testament to his intellectual skills. "I thought well, everybody thinks I'm really smart I should do something that stereotypical smart people do and solve a Rubik's cube," he said.
Over the course of six months, Hardesty went from 10 minutes to under 20 seconds in his time to solve the Rubik's cube. "Pretty recently I got it under 10 seconds which is a really big step – it's like almost single digits which is what everybody tries to get towards," he said.
With the world record nearing four seconds, Hardesty is constantly focusing on lowering his time. "I feel like just as fast as I'm improving, the record is improving too. I can get the time down there eventually, but there's still a lot yet to learn. I might be considered an expert, but I'm no expert compared to them."
Although he is attending college at a much younger age than many of his peers, Hardesty sees himself as an equal with his fellow classmates. "I don't feel like I'm above anyone just because I'm younger," he said. "I feel like I'm pretty much on a same level with them."
Regardless of age, Hardesty's habits reflect those of many typical college students. "I always stay up late, and I don't get very much sleep. But I guess that's what a lot of people do, too."
Along with his skills with the Rubik's cube, Hardesty is a talented pianist and runs cross country and track for Bluffton. Hardesty is uncertain what he really wants to do with these hobbies in the long term, but his enjoyment keeps him dedicated.
With Hardesty's many interests, he recognizes not all will lead toward career paths that he can see himself taking in the future. However, he encourages other students to follow what they enjoy doing, whether or not their hobbies lead to a vocation. "If you're interested in something then you should pursue that," he said. "You do need some type of career, but as long as you're doing something you like, even on the side, that's important."
-B-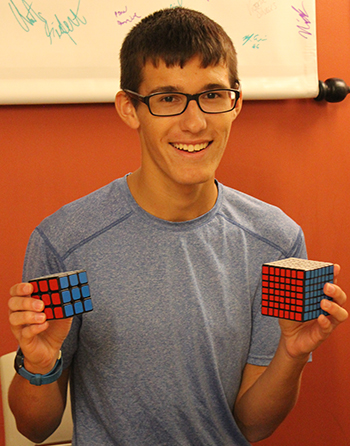 Regardless of age, Bradley's habits reflect those of many typical college students. "I always stay up late, and I don't get very much sleep. But I guess that's what a lot of people do."