Reigning champion
11/11/2020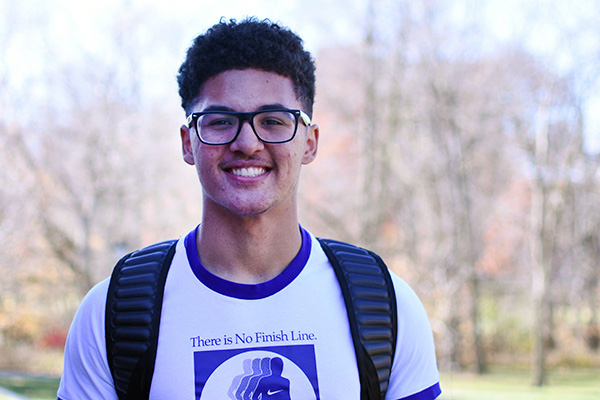 Persistence pays for heptathlon champion
When Brandon James '22, a strength and conditioning major from Waynesfield, Ohio, found his way to the sport of track and field in high school, he didn't make it straight to the leader boards.
"I started off as not even an average athlete, not even mediocre. I was not good," explained James. "But I was persistent, which got me where I am now."
Where James is now is the reigning indoor All-Ohio heptathlon champion (an event where participants compete in seven events: 60m sprint, long jump, shot put, high jump, 60m hurdles, pole vault and 1,000m run). He's also the indoor HCAC (Heartland Collegiate Athletic Conference) triple jump champion, and he secured HCAC 2nd team honors in long jump and HCAC 3rd team honors in the 4x200 last winter.
James says his persistence comes from a desire to "prove people wrong."
"I've had a lot of people doubt me. I've struggled academically, and I had a tough upbringing," said James. "But at Bluffton, everybody has my back. I love it."
James is specifically grateful for his current and former teammates Justin Kauffman '20, John Jones '20, Stephanie Fox '21, Ciana Hostetler '20 and Tori Bowen '20.
He chose Bluffton for the tight-knit atmosphere and small campus community. This fall, James was relieved to return to in-person classes and has really enjoyed Issues in Modern American with Dr. Perry Bush.
"With everything going on this year, especially with the Black Lives Matter Movement, I've been excited to talk about these issues," said James. "The whole idea of the class is to explore the current problems in the United States, and it's allowed me to open up and share about my personal beliefs."
After college, James' professional goal is to coach track and field while continuing to compete.
"I'm going to keep doing this sport for as long as I possibly can, and when I'm done, I still want to be around it," said James. "I see strength and conditioning as the perfect major to help me continue."
James noted that Kaylea Jachno, head track and field coach, is certified in strength and conditioning.
"Coach Jachno sees a lot in me that I don't see in myself yet," said James. "If I can start seeing what she sees in me, I know I'll continue to grow and be even better."