Communication skills
11/02/2022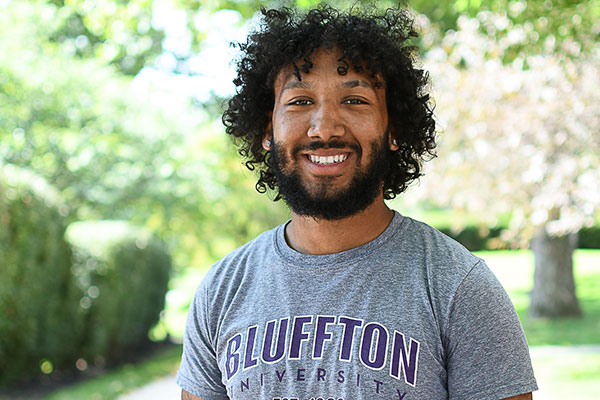 Mathematics AYA major works to perfect communication skills
Darius Boeke '23, a mathematics major with an AYA teaching licensure, believes that effective leadership starts with great communication skills.
Boeke has served in many leadership roles at Bluffton University including as a Becoming a Scholar mentor for Bluffton's first-year seminar class. Both last year and this year, he traveled as a mentor with Bluffton's first-year class during the Great Adventure retreat to the Great Smoky Mountains of Tennessee. There, he helped set up events, attended staff meetings and mentored the freshman on the trip. This year, his personal responsibilities increased.
"As a Becoming a Scholar mentor, I always saw my part as being like a teacher's aide," said Boeke. "But this year, I treated it more as way to figure out what works for me instructionally. Like, what I want to personally focus on teaching them and helping them with."
As a Becoming a Scholar mentor for Marathana Prothro, assistant professor of communication, Boeke also gained experience in the classroom.
"If she had an issue explaining something to the first-year students, sometimes I was able to share some experiences to get them past that hump," explained Boeke.
Knowing the right thing to say at the right time, is a skill Boeke values.
"Not everyone understands math. As a future educator, I need to be able to explain things in different ways for different people."
Boeke has practiced this skill by asking for feedback from students in the Becoming a Scholar class and his peers. Now in his junior year, he's better able to pick up on the different learning styles people have and tries to be a support for students, no matter their learning style.
"In education, we talk a lot about multiple intelligences," said Boeke. "Some students need more out of you than others."
After graduation Boeke plans to become a mathematics teacher, but he sees the value in possibly pursuing administrative positions.
"I personally enjoy management roles," said Boeke, who is a Lead Ambassador for Bluffton's President's Ambassadors program. "As a Lead Ambassador, I have four to five other ambassadors who rely on me. Now, I'm learning to not only manage myself but to also manage other people."
In addition to being a President's Ambassador, Boeke is involved in Multicultural Student Organization, the executive board for Student-Athlete Advisory Committee and Bluffton Education Organization. He is also a pitcher on Bluffton's baseball team.