A quick decision
10/21/2020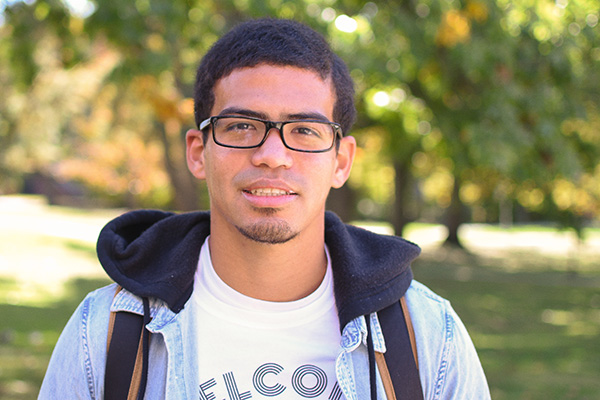 Sergio Alvarez found the 'right place' at Bluffton
When Sergio Alvarez '20, a business administration major from suburban Atlanta, first stepped foot on campus two years ago he didn't plan on attending Bluffton University. Instead, he just planned on dropping off his cousin, Luisa Rivera '23. An international student from Honduras, Rivera booked a flight to Atlanta to visit with family before beginning her studies in Ohio. After driving Rivera and her family to campus, Alvarez joined them on a tour.
"We came the weekend before the semester started, and I liked what I saw. I liked the campus," Alvarez explained. "I had to make decisions quick, but it felt right. Paul Neufeld Weaver [director of global education] went above and beyond. I felt supported at Bluffton, and I felt like I was in the right place."
So Alvarez quit his job, packed his bags and transferred the credits he earned through an associate's degree from Georgia Perimeter College (now part of the Georgia State University system) to Bluffton in pursuit of a bachelor's degree.
While his major is business, the class he enjoyed most at Bluffton was Issues in Modern America. Taught by Dr. Perry Bush, professor of history, Alvarez explained the class opened him up to view the world from new perspectives.
"I really enjoyed that class because it made me ask questions," said Alvarez. "We weren't just scratching the surface. We learned the history and context of what we were studying. I'm much more aware of issues now that I hadn't really thought about before."
On campus, Alvarez is involved in Multicultural Student Organization and International Connection. He also works in Marbeck Center and is a midfielder on the men's soccer team. The team's conference games are planned for spring semester, but because he is graduating this fall, they celebrated him during an early senior day at their Oct. 17 game against Adrian College.
After graduation, he plans to return to Atlanta and has goals to work in the airline industry.
"I feel prepared for my future, but I don't want to leave just yet. I love it here," said Alvarez. "It's very easy to approach people here and have a conversation. Bluffton does a really good job of fostering that type of environment. I've really enjoyed my experiences and the relationships I've made."