Rowena Zuercher '20
10/19/16
calling for social justice leads to gap year in Los Angeles
Having spent four summers working with students in lower-income schools in Canton, Ohio, Rowena Zuercher '20 went through high school witnessing the disparities in the communities that surrounded her.
"Working during the summers really opened my eyes to a lot of systemic injustices that I was being confronted with for the first time," she said.
The more time the social work major from Apple Creek, Ohio, spent with the kids in Canton, the more she began to question the structures of inequality.
"As I started questioning, I realized that I couldn't find the answers in my small, predominately white community."
In her search for answers and with the desire to aid others, Zuercher took a gap year between high school graduation and her freshman year at Bluffton University. From September 2015 through this August she connected with a ministry through Mennonite Mission Network known as DOOR, which stands for Discovering Opportunities for Outreach and Reflection. The year-long service program operates in many major cities throughout the United States including Los Angeles.
Through DOOR, Zuercher volunteered with People Assisting the Homeless (PATH). PATH is a family of agencies working together to end homelessness for individuals, families and communities throughout California.
Zuercher's role was to provide homeless individuals in L.A. access to housing, legal and health services as well as to meet their basic needs by handing out food, clothing vouchers and other necessities. "Our whole thing was that we meet people where they're at. We go to them. So it was a really interesting experience to be on their terms."
During the experience she realized just how connected she, a teenager from a community of less than 2,000 people, was to the men, women and children living on the streets of one of the largest cities in the country. She says the feeling was one of solidarity.
"It's really that acknowledgment of I need you just as much as you need me, if not more," she said. "I really had to learn to see people beyond their need. Who are they as a person, and who am I, and where do we meet?"
She also saw some real paradoxes in her new community. "L.A. is the movie capital of the country, but the stories of the people who really live in L.A. are not being told"
While in California, Zuercher was able to develop relationships and form lasting memories through her community, her church and her work.
Zuercher lived with fellow DOOR participants a few minutes from Hollywood Boulevard in a primarily Hispanic-immigrant community. During her time there, she connected with her neighbors.
"It made the property and the community feel like home because I knew the families. I could walk anywhere and I recognized someone on my street. I built a lot of great relationships within my community."
Zuercher also became part of a growing church started by one of DOOR's former board members and his family. She felt a welcoming presence from the small congregation in the big city. "I loved it, and since it was small I got to meet the founder's family and their family. They really feel like my family, I would say."
In her work, Zuercher also realized the power in loving the unlovable. "There's something about falling in love with people that the world tells you that you can't love. You've really disarmed the world's greatest weapon which is fear and hate. Once you've disarmed both of those, what does the world have to stop you?"
At the end of the year, Zuercher came away with one lasting lesson. "Everyone needs someone to fight for them and believe in them unconditionally, and that will continue to be my goal."
-B-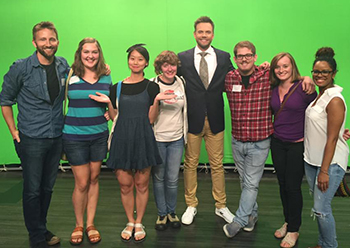 "

There's something about falling in love with people that the world tells you that you can't love. You've really disarmed the world's greatest weapon which is fear and hate. Once you've disarmed both of those, what does the world have to stop you?"