Kris Lyons '18
10/18/17
Senior spends summer interning at the Cleveland Clinic
Kris Lyons '18 spent the summer shadowing radiation oncologists at the Cleveland Clinic. The internship provided the physics and chemistry double major from Vickery, Ohio, a unique networking opportunity along with exceptional hands-on experience. It also served as a door to Lyons' intended career path.
"Knowing that I can do my part to help someone in a difficult time with the result of potentially getting to live a healthy rest of their life is why I want to pursue the field of radiation oncology; and this experience was a great eye-opener to that," said Lyons.
The field of oncology studies and treats cancer and is broken down into medical, radiation and surgical sub-fields. Lyons' internship combined work in medical and radiation oncology, as he learned more about the medical equipment and treatment planning.
"I liked being behind the scenes and doing the work that goes into treating the patients," he said. Lyons also enjoyed learning about the medical machinery, how it operated, and what it offered in the scientific field.
Lyons' typical week consisted of running routine tests on the medical equipment, performing checks on patients and ensuring the plans and dosages for the treatments were received. Although listed as a student intern, Lyons was allowed to perform many tasks and gained exceptional field knowledge.
"Oncology offers a solution to something that's pretty tough. Cancer is something that affects everybody in their own way," said Lyons.
Lyons, who is also a member of the cross country and track and field teams, came to Bluffton for its strong academic community.
"I like that the learning is interactive with professors and other classmates, and I think that's helped me a lot in terms of growing and becoming a better student."
Returning to Bluffton this fall, Lyons has been able to apply the problem-solving techniques learned during the internships into his academic work. He also used the lessons and preparation gained at Bluffton during the internship. "It was definitely a confidence booster knowing that my education at Bluffton is providing me the tools that are necessary for this complicated, advanced and evolving field," he said.
Lyons plans to pursue his interest in radiation oncology at graduate school.
-B-
-Cara Echols '19, PR student news writer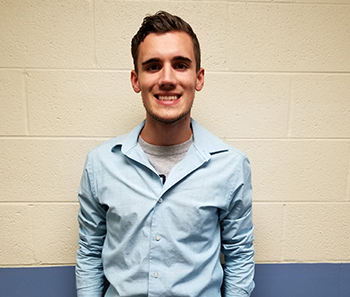 "It was definitely a confidence booster knowing that my education at Bluffton is providing me the tools that are necessary for this complicated, advanced and evolving field."