Maria Hernandez '19
10/25/17
Bluffton junior represents student voice in Mennonite committee
Maria Hernandez, a mathematics and physics double major, is engaging and growing in her Mennonite faith while offering her voice and insight to the community. The junior from Alamo, Texas, serves as a student representative for Bluffton University on the Mennonite Central Committee's Great Lakes Board.
"I thought this would be a good opportunity to meet people and be able to be involved more in Mennonite society, as I grew up Mennonite," she said.
Mennonite Central Committee (MCC) is a large aid organization that is supported by a spectrum of Mennonite affiliations. The United States is divided into four regional committees with several supporting denominations in each.
Bluffton, affiliated with Mennonite Church USA, is among the few universities with student representatives. Hernandez says the inclusion of students is a new and growing idea. "We're literally the first couple of students on the committee, but they would like more youth involved."
Hernandez was approached by Dr. Paul Neufeld Weaver, professor education and Spanish, about the opportunity to be a voice for the Bluffton community.
"Maria is an energetic and active participant in campus activities and is interested in helping others," said Dr. Neufeld Weaver.
Hernandez was surprised by the amount of work and planning that goes into the administrative side of the organization. Some of the tasks the MCC board focuses on are discussing regional issues, reforming bylaws, and distributing funds to service and aid projects associated with the organization.
"I didn't realize that there is so much involved in MCC. I'm continuously learning what a Mennonite is, and I didn't know there were so many logistics going on and so much effort that goes into the organizational part," Hernandez said.
One of her favorite parts of the experience was getting to meet so many different people who all share an Anabaptist background. "I think it's really fun because you create so many new contacts," she said. "There are people from so many different places that you get to interact with."
As she wraps up the end of her two-year term, Hernandez understands the importance of having multiple voices in the committee and plans to continue exploring her faith.
-B-
Cara Echols '19, PR student news writer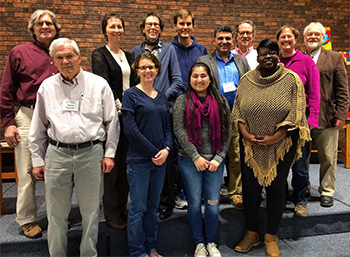 Maria and the MCC Great Lakes Board
---
"I think it's really fun because you create so many new contacts. There are people from so many different places that you get to interact with."