Scott Bergman '06
10/04/17
back on the links with Beaver golf
Scott Bergman '06 is teeing off with Bluffton University once more. Stepping back onto the course, this Bluffton graduate is serving as an assistant coach for the men's golf team. Bergman was one of the last students to take part in the original golf team at Bluffton before the program discontinued in 2004.
"I think a lot of the alumni and guys I've played with in those two years are excited the program is back. We're all thrilled to see it back and hoping to see it thrive," he said.
Bluffton has always felt like home to Bergman. "I was really drawn to the campus and what it had to offer me athletically and academically," he said. In addition to his golf career, he also played basketball all four years, and appreciated Guy Neal, head men's basketball coach, allowing him to take up the spring sport.
For the last 10 years, Bergman has worked at Marathon Petroleum and is the father of three children, keeping him busy in profession and at home. However, he's "happy to help in any way possible with the program," and looks forward to continuing to grow the program with Adam Craig, head men's and women's golf coach.
Bergman is optimistic about the program's potential with Craig's leadership. The coaches met through the Findlay Country Club, where Craig had been assistant professional for four years.
"I think the program is going to be a great opportunity for students to be able to play for a coach who has a wealth of knowledge of the game of golf as well as having been involved in the golf industry for a number of years," said Bergman.
The Bluffton golf program offers students memberships to two golf courses in the Bluffton area, Hidden Creek and Bluffton Golf Club, offering great opportunities to play at the collegiate level.
"I think you learn to compete and improve and that's just like the professional world," Bergman said, with hopes students gain the greater life skills offered by golf.
"Competition is something you learn to deal with. It teaches you how to balance school and athletics, and that's only a positive that they can take away for their life after college," he added.
Bergman is optimistic of the coming seasons and sees great potential with the athletics opportunities for students in the present and future. I'm looking forward to many prospective men and women athletes and hopefully improving our golf program year to year."
-B-
-Cara Echols '19, PR student news writer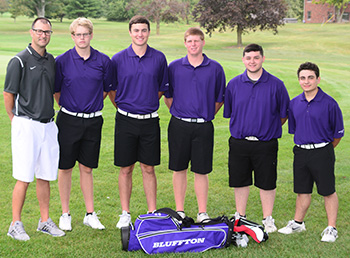 "I think the program is going to be a great opportunity for students to be able to play for a coach who has a wealth of knowledge of the game of golf as well as having been involved in the golf industry for a number of years."