Volleyball bonding & more
10/08/2015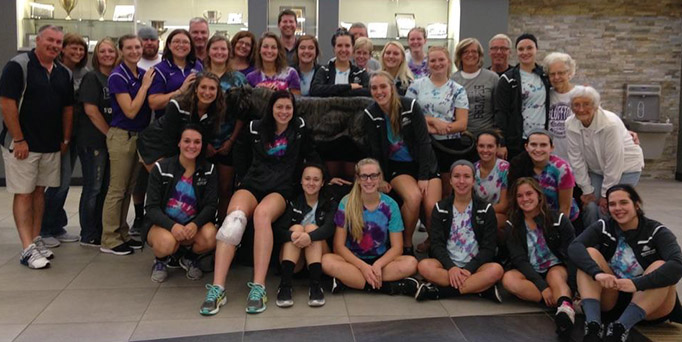 A trip to remember
Head volleyball coach Steve Yarnell traveled more than 1,000 miles to cross something off his bucket list.
In the process, his team picked up what he calls probably one of the top five wins in his 10-plus seasons at Bluffton.
On the longest volleyball road trip in Yarnell's tenure, Bluffton went 2-2 at the Colorado College Invitational in Colorado Springs Sept. 11 and 12. In addition to the big win over Mary Hardin-Baylor—which has been receiving votes in the NCAA Division III volleyball poll—the team defeated Chapman, from Orange, Calif. The losses were to Wisconsin-Whitewater and Colorado College, both of which were ranked in the top 15 in the nation as of last week.
"It's a trip that has been on my bucket list. I have been talking about it for about four or five years, but I thought this year we had a really competitive team that needed to be challenged," says Yarnell, who made the decision to go last October.
Subsequent planning also included more educational aspects of the trip, which began when team members boarded a plane in Dayton at 3 a.m. Sept. 10.
After arriving in Colorado and practicing, they went spelunking at the Cave of the Winds, west of Colorado Springs. The next day, after their first two matches at the college, they toured the nearby U.S. Olympic Training Center.
"Just being there was cool," Yarnell says. "This is where the best train."
That was the favorite part of the trip for senior middle hitter Jenny Brown, from St. Marys, Ohio. "We were constantly on the go," she adds, "touring new places and getting a full experience of Colorado in addition to playing volleyball."
The experience also included a ride up Pikes Peak in a cog train and attending chapel in what Yarnell calls "an absolutely amazing church" at the Air Force Academy, just north of Colorado Springs.
On the court, playing ranked opponents—and defeating one and pushing Wisconsin-Whitewater—represented a good opportunity for his players, Yarnell says. And overall, it was a trip he thinks they will remember for a long time. "You don't have to do a lot to bond," he says. "Just being on a trip like that, driving around in vans, and the funny things that happen make it unique."
"We definitely want to do this again," adds the coach, mentioning Atlanta's Emory University, UMass Boston and California Lutheran as a few other places he hopes to visit with his team. "But we'll probably stick close to home the next couple of years."
-B-
More than volleyball
---
"It's a trip that has been on my bucket list. I have been talking about it for about four or five years, but I thought this year we had a really competitive team that needed to be challenged."