Alicia Rodriguez 16
10/11/16
Rodriguez uses classroom lessons to improve international health through MCC
One day after being crowned May Day Queen, and just hours after walking across the graduation stage, Alicia Rodriguez '16, a food and nutrition major from Desert Hills, Ariz., boarded a plane for a flight which would take her halfway around the world to Bangladesh. During the service experience, she learned that despite cultural, religious and language differences, people around the world have many things in common. Being a food and nutrition major, one commonality struck her in particular. "It seems that no matter where you are in the world, people just don't like to eat their vegetables."
Rodriguez spent two months in the cities of Dhaka and Mymensingh where she developed six nutrition modules for Mennonite Central Committee to use with youth at risk for migration. Module topics ranged from affordable nutrition to the prevention of metabolic disease including diabetes.
"When I got there, I thought my lessons would focus on communicable disease," said Rodriguez. "To learn that diabetes is on the rise was definitely unexpected," said Rodriguez.
However, Rodriguez easily adapted her plans thanks to the skills she learned in classes taught by Dr. Deb Myers, professor of dietetics, and Jeanna Haggard, assistant professor of food and nutrition.
"I think what helped the most was how many projects we had to do in class. I always grumbled about those projects, but suddenly I was in Bangladesh, and I had a project to complete," said Rodriguez. "I knew how to think through the process of putting these modules together because I had so many similar assignments."
Rodriguez adapted the lessons she learned in America, for a Bangladeshi audience. For example she used the USDA's My Plate nutritional guidelines to encourage a better-balanced diet.
"For instance, the USDA allows for carbohydrates to fill 25 percent of the plate. In Bangladesh, I changed it to half the plate being carbohydrates, which would be primarily rice," said Rodriguez. "That's because you could never tell a Bangladeshi you can only eat ¼ of a plate of rice. They typically eat one to two plates of rice at every meal."
Much of Rodriguez's time in Bangladesh revolved around food— from preparing the nutrition modules to exploring local markets for fresh produce to eating with new friends during Iftar celebrations. Rodriguez's trip coincided with the Muslim holy month of Ramadan. During the day, Muslims fast. However, when the sun goes down, it's time to eat, and because it's a holiday, the food can be extravagant.
"I was there with Christians, Hindus and Buddhists, and the Muslims who invited us made special food. Some are very deep-fried foods," said Rodriguez. "They have one candy that is made of strands of sugar deep fried. It's literally deep fried sugar! It's really good when it's fresh and warm, but you can feel it sticking to your teeth."
By going to these celebrations, Rodriguez quickly completed a challenge Dr. Matthew Friesen, assistant professor of sociology, gave during his Baccalaureate address.
"He spoke about going somewhere you've never been, eating with people you've never met and doing something that scares you. I was scared the whole time in Bangladesh, but I did everything on the list," said Rodriguez. "Now, I'm so thankful I followed his advice because I had this amazing experience."
Rodriguez was overwhelmed by the friendliness and hospitality of the people she met in Bangladesh including women at a carpet factory who taught her Bengali after work and strangers on the street who would smile and offer tea and mangoes.
However, she had every right to be afraid as well. During her stay, there was an attack on a café in Dhaka that left 28 people dead, including 20 hostages. The café was popular among foreigners.
"There's just a lot of instability in Bangladesh and then add ISIS on the rise," said Rodriguez, of the country which was established just 45 years ago. Conflict remains between two groups. One group wants to stay liberated and one wants to join Pakistan and return to a Muslim State.
Back in the United States, Rodriguez is completing a year-long, required internship ahead of the registered dietitian's national exam. Because of this experience, as well as a cross-cultural experience to Botswana in 2015 with fellow Bluffton students, Rodriguez wants to pursue international health.
"I like learning about other cultures," said Rodriguez. "There can be rough conditions, but I think I adapt well to that."
-B-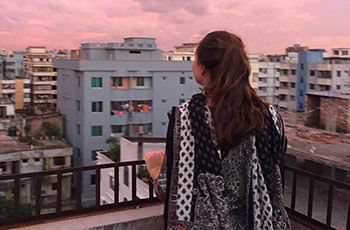 "It seems that no matter where you are in the world, people just don't like to eat their vegetables."