Vocation confirmation
10/07/2020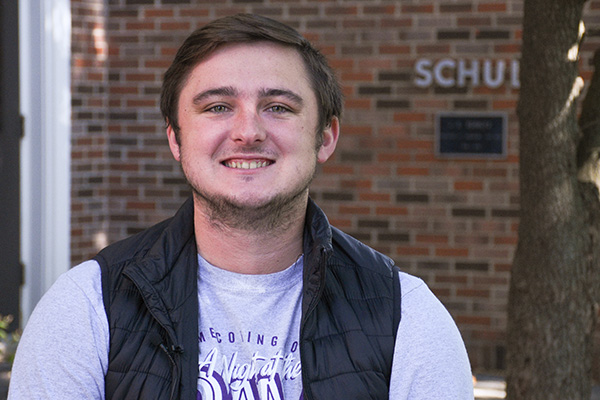 furthering the love of music
Evan Burden's future vocation was confirmed during his first semester at Bluffton University. The junior music education major from Sidney, Ohio, was taking part in his initial field experience at Pandora-Gilboa Local Schools when the teacher he was shadowing asked him to take over.
"She walked me through the steps of lesson planning and she gave me a topic to do a lesson on. It was kind of scary, but it was also a super cool experience," explained Burden. "I never thought I would teach so early in my journey."
That day, Burden observed several classes including high school choir, junior high band and 6th grade general music. Since then, he's also worked with Bluffton's high school choir and 6th grade English and Language Arts students.
"These experiences very much confirmed what I want to do after college," said Burden. "At first, I wasn't sure education was actually the direction I wanted to move forward in, but being in those classrooms, I realized I wanted to further the love of music inside young peoples' hearts."
Because Bluffton prepares music education majors to meet Ohio's multi-age licensure requirements, students are prepared to teach both vocal and instrumental music to students from pre-kindergarten through 12th grade. That means Burden has picked up a variety of new skills.
"Right now, I'm taking Woodwind Methods. Never in my life did I think I would play a woodwind instrument," said Burden. "I've also taken String Methods, Voice Methods, Percussion Methods, Brass Methods and Choral Methods. Next semester, I take Instrumental Methods; so it's a very in-depth experience."
Burden's classes, especially his music classes, are a bit different due to the COVID-19 pandemic. However, he's just "thankful to be able to sing again."
For example, lessons are being held in larger classrooms, plastic dividers separate students from their accompanists, and masks and face shields are required while singing.
"I think we've done a lot to keep everyone safe," said Burden. "I'm so thankful we are in person."
Outside of class, Burden is very involved on campus. He's a resident advisor in Ropp Hall and is president of Bluffton's Ohio Collegiate Music Education Association (OCMEA) chapter. Burden is also active in University Chorale, Camerata Singers, Concert Band, International Connection (ICon), Brave Space and theatre productions.
But when things get a bit overwhelming, Burden heads back to Mosiman Hall for the mentorship of his voice advisor, Dr. Crystal Sellers Battle.
"She helps me with school stuff as well as life stuff," said Burden. "She's my go-to person."