Jason Summers '19
09/27/17
Bluffton business student gains workplace experience through multiple internships
Jason Summers, an accounting and business administration double major, has spent the last two semesters as well as the summer learning outside of a traditional classroom setting. The junior from Vanlue, Ohio, has been gaining knowledge in his field by taking part in three successive internships. With help from Bluffton's many career furthering opportunities, Summers is thankful for each experience.
"I really appreciate how many opportunities Bluffton has provided for students like me to get internships and jobs. Bluffton really showcases opportunities for professional improvement."
This fall semester, Summers is a paid intern at Marathon Petroleum Corporation in Findlay, working as a supply, distribution and planning accountant. There he handles invoices for inventory and payroll for any items that pass through the company's refinery.
"They have really good culture, so it's nice to see how leadership makes for a good work environment and to see that from an organizational standpoint," he said.
This past summer, he took part in a paid internship at Owens-Illinois (OI), at their global headquarters in Perrysburg, Ohio, where he continued to expand his knowledge. There he spent 13 weeks working in finance and internal audits. He's also received a return offer for this coming summer.
"My internships have been so helpful, the people are phenomenal and they're really good teachers," he said.
Through Bluffton's numerous networking events, Summers was introduced to both Marathon and OI. The university hosts many opportunities for students such as job fairs, the Employer Expo and lunch presentations to help students explore careers and to connect with employers in their vocation.
Summers' first internship was in the spring semester of his sophomore year in Washington, D.C., at the Washington Area Community Investment Fund (WACIF). Summers also participated in the Washington Community Scholars Center where he lived and studied with other college students. The internship and program provided a foundation that he is continuing to build on.
"You learn a lot about how decisions are actually made in a business setting," said Summers. "It's good to read about how businesses are run in a book, but in the real world they can look different."
Summers has been able to take part in all of these experiences while still staying on track with his academic schedule. "Depending on how classes fall, I might be able to graduate a semester early and might even be able to fit in another internship," he said.
Currently the president of Bluffton University Business Leaders (BUBL), a campus organization that provides business discussion and opportunities to students, Summers sees his role as "a chance to give back and help other students get the experiences I've gotten with my internships."
"My internships have been very beneficial, so it's kind of neat that I can, through BUBL, help other students," he added.
Summers encourages students to take the initiative and apply for internships. The opportunity could lead to a returning or full-time job offer and "it really gets a good foot in the door," he said. Additionally, "you get a good resume builder; future-wise, internships are really beneficial."
-B-
- Cara Echols '19, public relations student news writer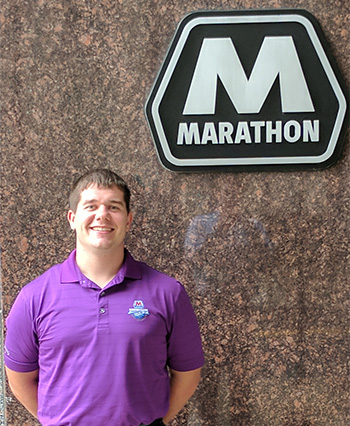 "

I really appreciate how many opportunities Bluffton has provided for students like me to get internships and jobs. Bluffton really showcases opportunities for professional improvement."