John Parent '18
09/12/17
Full-time student, part-time mayor
With a bald head and graying beard, John Parent '18 doesn't look like a traditional student at first glance, and his resume looks just as different. The senior English major with a concentration on adolescent/young adult education from Delphos, Ohio, is not only a full-time student at Bluffton but also a husband, a father of seven, a full-time regional sports editor and currently the active mayor of Delphos.
"I wanted to make sure that my kids and their friends were going to grow up in a safe environment," said Parent on his mayoral appointment after the former mayor stepped down due to health reasons. "And I thought if I can help, then I should help; so that's why I decided to get involved," said Parent.
With no initial intentions to become mayor, Parent submitted his resume to network for future city council opportunities in Delphos once he had graduated. "I sent in my resume with the thought I would go in, talk to city officials and get my name out there," said Parent. "Apparently the interview went better than expected."
However, seeing issues in his community, Parent took the offer and saw it as an opportunity to ensure the community of Delphos remained the charming and safe place his family and other families cherished. "Maybe that's a naïve way of looking at things," said Parent, "but the people of Delphos don't want that be a naïve way of looking at things."
As the position is temporary, Parent will hold office until the end of December, but he is currently on the ballot for election in November to complete the term that runs until 2019. "My hopes are to continue. It's been a really interesting process so far," he said.
Along with his newest position in city government, Parent also works as the sports editor for the "Van Wert Times Bulletin" and the "Delphos Herald" in the evenings and participates as a full-time student at Bluffton during the day. He has worked in journalism for 10 years.
Parent returned to school with the desire to complete his degree in education and get more time with his family. Bluffton was not only close to home, but it also held family legacy. Parent's grandfather, Herman Parent, graduated from Bluffton in 1950 and was the initial investor in the Lion and Lamb Peace Arts Center, a donation made in memory of Parent's grandmother Helen (Brenneman) Parent.
The transition back to college later in life has been rewarding. "The whole process from the start to where I am now – a year away from graduation – has been better than I expected," said Parent.
"English," Parent's concentration, "lends itself to discussion and lends itself to shaping the way students appreciate other points of view and perspectives." Parent sees his role as an educator to help students grow not only academically but also personally. As he looks to student teaching in the spring, he hopes to bring that discussion and life building to his classroom.
"It's a teacher's job, not only to prepare students for learning the material, but prepare students for life after high school and how to be successful adults no matter what they're going into."
With his college career coming to a close and new chapters in the classroom and city government beginning, Parent sees his success only possible with the help from his wife. "I know I couldn't do any of what I do, and certainly not all of what I do, without all that my wife does," said Parent. "She does so much to allow me to accomplish all of what I do, and I couldn't be successful without her."
At present, Parent is looking forward to the election in the fall, graduation in the spring and the ability to spend more time with family in the years to come.
-B-
Cara Echols '19, public relations student news writer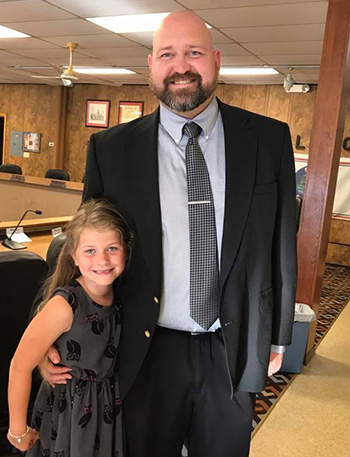 John and his daughter, Amity
---
"I wanted to make sure that my kids and their friends were going to grow up in a safe environment. And I thought if I can help, then I should help; so that's why I decided to get involved."