Katie Keesbury '18
09/06/17
senior finds her calling in Romania
Senior Katie Keesbury found her calling this summer, nearly 5,000 miles away from her hometown of Bryan, Ohio. The bible and theology major spent a month in Romania as part of her minor in missions, and while she received college credit for the international experience, she also discovered her next step in God's plan.
"I came away from the experience with the feeling that God was telling me "yes, you're on track, this is exactly what I have planned for your future, and you're doing what I want you to do,'" said Keesbury.
With prayer, careful planning and several options outlined by Dr. Randy Keeler, professor of religion, Keesbury found herself called to Romania. The experience fulfilled a practicum/independent study requirement for her minor.
While there, she worked at a clinic and school known as The Potter's House. The foundation once served as a home for young boys, but currently offers daily programs, educational services and medical services for children, with social workers and psychologists on site.
The agency often works with children from Romania's gypsy community. "Most of the time gypsy kids don't go to school; they aren't allowed to go to public school," Keesbury explained. "If their parents have some education, they'll teach them, but most of the time they don't. Most of the education the gypsy kids are getting is from the foundation."
Despite their poor living conditions and minimal finances, Keesbury says the gypsies were very kind people. "They have a bad name reputation, and so they're treated really poorly."
While visiting the Gypsy community, Keesbury's group brought supplies and food, played with the children, gave a small Bible lesson and spent time in the evenings with the families.
Throughout the month of June, Keesbury also taught English and other classes, assisted with a vacation Bible school led by a group of Americans and had the opportunity to lead Bible lessons on her own.
This summer was a whirlwind for Keesbury. She was on a plane to Bucharest just one week after spending the month of May on a Bluffton cross-cultural experience in Bolivia. While the schedule might have intimidated some, Keesbury was eager to sign up for both experiences.
"I knew I would be in South America for my Bolivia cross-cultural and then a week later I would be set to go to Europe, and I just thought I would love it," said Keesbury.
Keesbury greatly enjoyed her time abroad and looks forward to future mission and volunteer work. While she is open to other opportunities, she hopes to return to Romania someday.
"I really believe that's where I was led to go," said Keesbury. "The entire time I was excited and filled with peace."
-B-
Cara Echols '19, public relations student news writer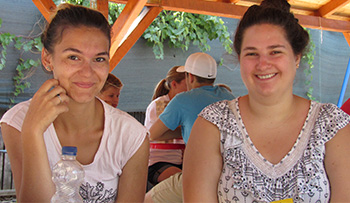 "I came away from the experience with the feeling that God was telling me 'yes, you're on track, this is exactly what I have planned for your future, and you're doing what I want you to do.'"