Kala Jilani-Pritchett '18
09/20/17
exploring neuropsychology at Harvard Medical School
Kala Jilani-Pritchett '18, a psychology major from Dayton, Ohio, took part in an experience this summer that offered insight into her future. Jilani-Pritchett, alongside other college students from across the country, spent a month at Harvard Medical School exploring the areas of neuroscience and neuropsychology, sciences involving the study of the brain.
"I ran across this program, and it was exactly what I wanted to do," she said. "It opened a door that I didn't know I could open."
For the first half of the experience, Jilani-Pritchett worked in a small group led by a mentor. The groups studied the effects of cancer in mice.
"Each type of cancer has its own camouflage mechanism that is used to hide itself from our immune system so that it can't be fought off quickly," said Jilani-Pritchett. "That's why certain cancers can affect the whole body so fast."
The students brought the knowledge gained during the first half of their experience to Brigham and Women's Hospital, where they took a closer look at how medical doctors and psychologists target and treat brain malfunctions and psychological disorders using neuroimaging methods. Students used medical equipment, worked in labs and observed patients.
"We shadowed different neurologists and neuropsychologists to see what they do and how they work together to solve or minimize the different things breaking down in the body," said Jilani-Pritchett.
Neurologists, explained Jilani-Pritchett, examined what was happening in the brain, while the neuropsychologists worked to diagnose the illness as they observed the neurologists' research.
While Jilani-Pritchett was introduced to brain-scanning equipment and bedside care, she especially enjoyed working in the laboratory and "working with the neuropsychologist because it helped me learn more about my field."
Working behind the scenes also helped Jilani-Pritchett determine that she chose the right field of study.
"This program made me realize that I really can help people with my degree," said Jilani-Pritchett.
Her time at Bluffton also prepared her for the experience. Classes like biological psychology and anatomy played influential roles during the internship, as well as classes with Dr. Deanna Barthlow-Potkanowicz, assistant professor of psychology.
And while the program was free, Jilani-Pritchett was able to pay for housing in Boston thanks to a $1,500 Summer Discovery Grant. The funds are available to students who complete a summer internship where they explore the relationship between vocation and faith.
Overall, the internship offered Jilani-Pritchett a broader understanding of the applications of psychology in the medical world and expanded her understanding of the multiple paths she can take in the field. "It really opened my eyes to what I want to do with my life."
-B-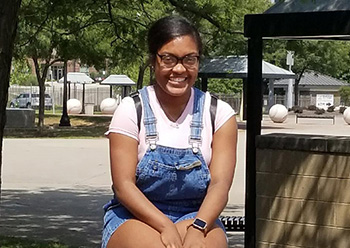 "This program made me realize that I really can help people with my degree."