Trusted mentors
09/08/2020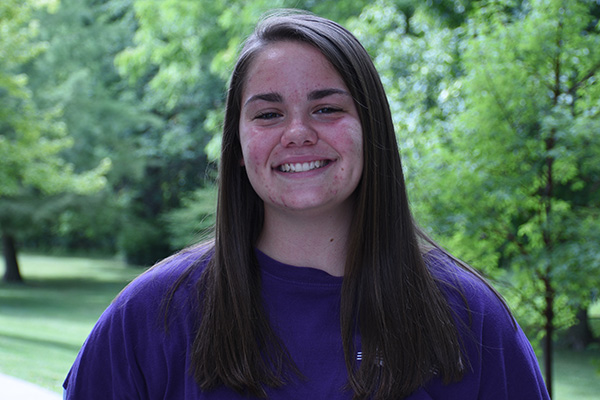 With help from mentors, Bri Baker is ready to lead on campus and in the classroom
For Bri Baker '21, a mathematics major from Defiance, Ohio, little nudges from trusted mentors have "really made an impact on my life." Her path to Bluffton University started with her father, Vincent Baker '91, bringing her to visit campus when she was a child.
"When I was looking at colleges, I decided I would visit for fun," said Baker. "After I went on the official tour, it felt like home, and I knew that Bluffton was where I needed to be."
At about the same time, Baker was trying to figure out her future career goals. Advice from her high school AP calculus teacher, Rosie Kieffer, helped Baker determine her vocation. "After taking that class and having a lot of conversations with her about what I wanted to do with my life, I realized that high school math education was what I needed to do," said Baker, who is earning her Adolescent/Young Adult education licensure for grades 7-12 at Bluffton.
On top of academics, Baker works as a desk manager in Marbeck, plays softball and is involved in the Bluffton Education Organization (BEO) and Student Athletic Advisory Committee (SAAC). She's also the chairperson of Marbeck Center Board (MCB), Bluffton's main student programming group. While she's leading MCB now, it took some convincing on the part of Kevin White, MCB advisor and assistant director of the University Event Complex, to get her to join.
"I've loved every single second of it. I have met so many wonderful people and had the opportunity to be part of so many memorable events," said Baker. "And Kevin is someone who will always be in your corner and support you in anything you do."
This semester, MCB's influence on building community on campus has taken on an even greater role including providing additional programming on Saturdays.
"With the university asking students to stay on campus due to COVID-19, MCB has come up with more events to keep students entertained," said Baker. "It has definitely been challenging, but it has also been extremely gratifying to see how much students are enjoying the events."
Some of her favorite activities so far this year have been the Bluffton Olympics, Tie Dye Night, Chris Jones the Hypnotist and Breakfast in Bassett.
As a catcher on the softball team, Baker's junior season ended just after the team's spring games in Florida. However, the team remained tight knit through social media and regular Zoom meetings and fall training is currently underway.
Baker credits Coach Amanda DeMoine for helping her grow as a leader. "She believed in me when I didn't believe in myself," explained Baker. "She cares about every single athlete on the team as a whole person."
With student teaching coming up this spring, Baker is ready for a role reversal as she'll have the opportunity to serve as a mentor.
"Teachers help shape students into the people they will ultimately become, and I'm excited to play my part in doing that."