Service to humankind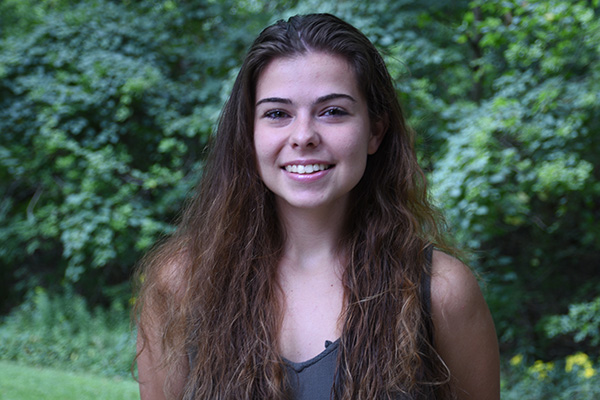 Serving others with 'love and empathy'
Natilee Grover '21, a Bible and theology major from Dayton, Ohio, describes the search for her perfect major as a "rollercoaster ride." And while she can imagine herself in 50 different vocations, she is prepared for whatever the future holds.
"I feel very at peace with where I could possibly go on my career path," explained Grover. "Mostly, I would like to have a career that takes me in a direction where I am spreading a reflection of love and empathy to others."
Grover's passion for service to humankind was reinforced during her Bluffton University cross-cultural experience to Israel-Palestine. During her journey, she visited holy sites, had a rededication baptism in the Jordan River and saw poverty like she had never witnessed before.
"My cross-cultural experience was very eye opening—from the people to the love, appreciation and culture I experienced," said Grover. "You cannot learn empathy, love or appreciation by reading a text. I truly feel you have to experience those feelings."
At Bluffton, Grover is currently serving the community as a resident advisor and previously served as a ministry assistant. As an MA, she was paired Cathy Yoakam, assistant director of financial aid, who continues to provide mentorship on handling the work-life balance. Grover also points to Dr. Jackie Wyse Rhodes, assistant professor of religion and campus pastor, as a mentor who encouraged her to participate in "Women Doing Theology," a conference which provided Grover with new perspectives and greater insight into leadership within the church.
"Actually, the entire Religion Department has helped me and supported me in my journey at Bluffton along with the Education Department," said Grover, who is also pursuing minors in education studies and psychology. "From having tissue boxes ready for me in their offices during the hard times to giving me a hug when I needed it (prior to COVID), or getting a coffee and sharing their wisdom and strength. They are all amazing individuals, and without their patience and time I wouldn't be who I am."
She picked up on the warm and personalized vibe during her first visit to campus, and it's ultimately why she chose Bluffton. "Every interaction I had was genuine," explained Grover. "And, I loved it."