Scarlett Purtee '21
07/30/2018
Bluffton sophomore is at her dream college, learning about her dream job
From the moment she stepped on campus, Scarlett Purtee '21, a criminal justice major from Richwood, Ohio, knew she would attend Bluffton University. The only problem was she had to wait a few years. Purtee, who was in seventh grade at the time, came to the newly built Sommer Center to watch her sister play in a volleyball tournament.
"We were just sitting there watching the volleyball game and I said 'this is where I'm going to school,'" explained Purtee. "Sophomore year, junior year of high school my teachers would ask us where we were interested in going and I would only write Bluffton. I was like 'I'm going to Bluffton.'"
Following her first year on campus, Purtee is gaining experience in her major as a security officer at Cedar Point. She started in May. As a kid, she held season tickets to the Sandusky amusement park. However, the experience is a bit different this time around.
"My roommate for next year came up, and I was like 'I'll meet you at this ride!' and then I realized I'm working. I can't ride the ride," joked Purtee. "A lot of people say that after work they don't want to come back and ride the rides, but I go on my days off all the time. I'm always there."
As a security guard, Purtee is assigned to walk one of four areas of the park. She enjoys the area near the Steel Vengeance roller coaster known as Frontier Town the most.
One of the most common occurrences she deals with is reuniting missing children with their parents.
"A lot of times their mom or dad say will say 'we'll meet here at 6' and then they can't find the spot," said Purtee. "Most of the time the kids know their parents' phone numbers so I just hand them my phone and they call their parents."
It may be a regular part of the job to Purtee, but for the parents it's a major relief. "When they walk up they're like 'thank you so much' and hug me and everything."
She's also dealt with everything from lost cell phones to line jumpers to rowdy light night crowds. Michael Barrett, assistant professor of criminal justice, introduced the idea of working at Cedar Point to Purtee, and she realized it was a good opportunity to get some experience.
"It's different than what I thought, but I like what I'm doing," Purtee said. "It's a good opportunity if you're interested in security."
While Barrett pushed her to further explore the field of criminal justice, the professor who pushed her the most during her first year was Kate Spike, assistant professor of English.
"I'm not great at English," said Purtee, "but she really sat with me and explained it more."
After she graduates from Bluffton, Purtee plans to either enter the police academy or work as a victim's advocate.
Until then, she's enjoying being a Beaver.
-B-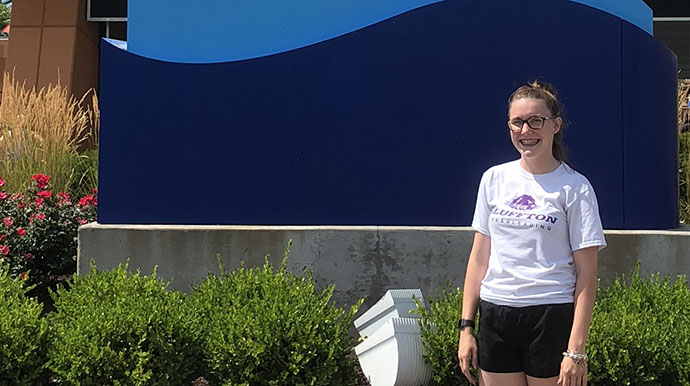 "It's different than what I thought, but I like what I'm doing. It's a good opportunity if you're interested in security."