Lucas Keller '19
07/18/2018
Transfer student finds the right fit and perfect major at Bluffton
You never know when you are going to be in the right place at the right time. Lucas Keller, a transfer student from Greenville, Ohio, is proof of this. After struggling for two years to find the right major and fit at a large state school, he spent a semester abroad in Spain.
"I wasn't enjoying my experience. A lot of that had to do with the fact that it was a bigger school and it was very much like if you knew what you wanted to do it was a good place," Keller explained. "But if you were searching, I realized a small school was the better fit."
That's when he met Mackenzie Butler '16, a Bluffton dietetics major who was also in Spain completing her cross-cultural experience.
"It was wild," Keller said of learning about Bluffton thousands of miles from Ohio. "We ended up becoming friends and about a year later I decided to visit for the first time."
After taking a gap year, Keller enrolled.
"It was a pretty easy transition for me. A lot of that had to do with taking a year off and figuring out what I wanted in life," said Keller. "Showing up and starting classes again was easier because I was interested in what I was studying. The professors made it really easy to transfer. They look out for the transfer students, and I appreciated that when I came in."
Now a senior, Keller took advantage of a unique opportunity at Bluffton which allows students to work with a faculty member to design their own major. Keller collaborated with Dr. Matthew Friesen, assistant professor of sociology, to develop "the sociology of community development." The major incorporates classes from sociology, economics and political science.
"I'm really happy with it," said Keller. "It was a process to get there. It was a lot of work, but it has definitely been worth it because now I have a major that is mine."
With help from Bluffton's Center for Career and Vocation, Keller was offered an internship this summer through the Heart and Soul initiative, a partnership between the Findlay-Hancock Community Foundation and the Orton Family Foundation. The community development program strives to increase participation in local decision-making so that residents have a voice in shaping the future of their communities. Keller is working with Mount Blanchard, a community of about 500 residents.
"I love it. It's really giving me a lot of great experience," said Keller. "I also feel like I'm really able to contribute quite a bit thanks to what I've learned at Bluffton—especially through a research standpoint."
Keller's main priorities are compiling data and creating videos to document the initiative's progress.
"I am doing a little bit of everything. The organizers have me working on videos to show what they have done and what they would like to do," said Keller. "I'm also doing a lot of research to understand the trends in their community and how they compare to trends in other similar communities both local and national."
Through the 10-week internship, he's learned a new lesson about people that will prove valuable in his future.
"I've realized that if you're willing to ask people for help, they're willing to help. The hard part is asking," said Keller. "I thought it would be hard to get people involved but usually once you tell them what your goal is, they're more than willing to jump on board."
After graduation, Keller would like to pursue a career in community development—specifically with a Main Street project to revitalize downtown business districts. Two classes at Bluffton in particular have cemented that career plan.
"Matt Friesen's Social Theory class has been the most inspiring and interesting to me. The class encouraged me to look at everything in life and how we've constructed ways of life that sometimes don't even make sense," said Keller. "Also, Labor Economics with Jonathan Andreas was a really interesting class that encouraged me to look at how the decision we make—even if they are small—can have a big impact on the people around us."
-B-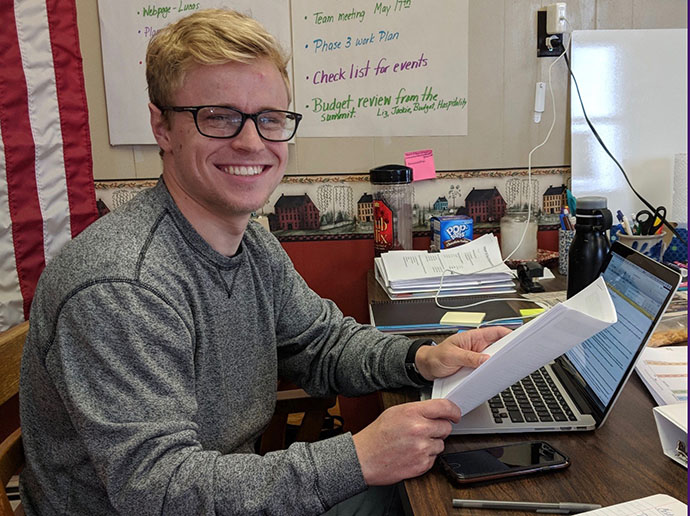 "I love it. It's really giving me a lot of great experience. I feel like I'm really able to contribute quite a bit thanks to what I've learned at Bluffton—especially through a research standpoint."


Lucas was a 2018 summer intern for the Heart and Soul Initiative, a community development program in Mount Blanchard, Ohio.