Destiny Grant '19
07/03/2018
Opportunities help Grant become 'brave' at Bluffton
BLUFFTON, Ohio – Destiny Grant, a psychology major and criminal justice minor from Belle Center, Ohio, came to Bluffton as a nervous freshman. "I was so scared of everything that I decided I was just going to stay in my room," said Grant.
Entering her senior year, Grant has a new outlook on life. "Now, I can take on anything."
Grant credits this change of attitude to the mentorship of social science faculty and to opening herself up as a member of Bluffton's residence life staff.
Through the encouragement of Michael Barrett, assistant professor of criminal justice, Grant is exploring vocational opportunities as a paid summer intern with Hancock County Adult Probation. Grant's primary responsibility is writing pre-sentencing investigations where she reviews and condenses police reports and other documents ahead of criminal sentencings.
"I also get to sit-in on group sessions, which are like therapy sessions, and that's really cool," explained Grant. "I interact with clients and look over their files. With this experience, I get the best of criminal justice, sociology and psychology."
Grant, whose favorite class has been abnormal psychology, plans to pursue a doctoral program in clinical psychology following graduation. Her ultimate career goal is to become a psychologist in a hospital setting.
"I want to help families and people who are experiencing mental illness especially juveniles," said Grant.
She came to Bluffton with a broad range of interests and credits professors including Dr. Deanna Barthlow-Potkanowicz, assistant professor of psychology, and Dr. Matthew Friesen, assistant professor of sociology, with helping her better understand her calling.
"They've helped me figure out what I like and what I don't like," Grant said. "I thought I was going to really like the neuroscience behind psychology, but I do not. The professors have provided opportunities that are really helpful to figure out where exactly I want to go."
Working as a resident advisor during her junior year further cemented her career ambitions.
"It helped me a lot because I was able to work with people," explained Grant. "All of the jobs that I've had before were very physical-type work like factory work, and I really fell in love with residence life in general. It helped me become brave."
Grant was introduced to Bluffton by her mother, Amy Grant, who took master's-level education classes at Bluffton.
"Before she came, I had never heard of Bluffton," said Grant. "I like the small environment. I'm not just a number here. My professors know me really well."
In the fall, she'll further expand her comfort level and explore her vocation through the Washington Community Scholars' Center, a semester-long experience in Washington, D.C., open to Bluffton University students. Participants live in a house with other WCSC students, complete an internship based on their major or interests and take weekly classes together. Grant's internship will be with the American Psychological Association.
Looking back on the past three years, Grant said, "It's been a really big change, and I can't wait to see what will happen next."
-B-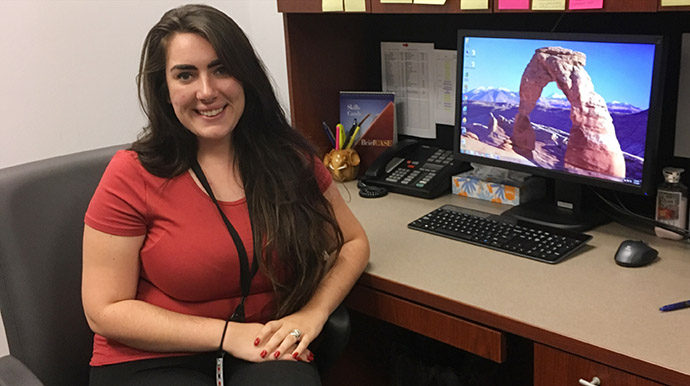 "It helped me a lot because I was able to work with people," explained Grant. "All of the jobs that I've had before were very physical-type work like factory work, and I really fell in love with residence life in general. It helped me become brave."