Kenny Beeker '18
07/26/2016
Bluffton junior researches his hometown's heart and soul
Kenny Beeker, a communication and history double major from McComb, Ohio, is delving into the heart and soul of his hometown this summer during a three-month Community Heart and Soul internship. The Heart and Soul initiative is a partnership between the Findlay-Hancock Community Foundation and the Orton Family Foundation.
"It is all about revitalizing small towns from the ground up and determining what the community values about itself," said Beeker.
The approach to community development helps residents identify long-term goals and planning priorities. Over a two year span, McComb residents are asked what they value most about their town in order to develop a consensus and strengthen the town's culture and economy.
The village is home to about 1,650 residents, but the $130,000 grant encompasses the McComb region including all townships in the McComb School District and the village of Hoytville.
Beeker started the internship halfway through the two-year project. Before the Bluffton junior got on board, the project director and community volunteers had gathered more than 3,000 stories from a wide variety of residents with a focus on traditionally underrepresented voices. Information from those stories was summarized into several Heart and Soul statements.
"My first day on the job, I helped to write the statements," said Beeker. "We have eight of them right now. In the future, we will use those statements to determine what the community needs, how to protect those values and how to enhance them."
Statements include:
We support and value the public safety agencies and our community (neighbors supporting neighbors) which ensures our safety and quality of life, allowing our children to be nurtured and our citizens to thrive in a safe environment.
We treasure being a small community, offering a beautiful setting, recreational opportunities, a clean environment, a rich agriculture heritage, and a friendly and caring atmosphere. These offerings promote wellness, family values, and a peaceful, close-knit lifestyle.
Beeker is currently in the process of verifying the statements.
"I've learned a lot about working with a large, diverse group of people," said Beeker. "I couldn't do this without the skills I developed both in communication and in history at Bluffton—from being able communicate effectively to being able to analyze data."
The project is a pilot for future partnerships between the two foundations and communities in Hancock County.
-B-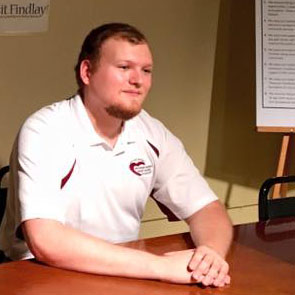 "I've learned a lot about working with a large, diverse group of people. I couldn't do this without the skills I developed both in communication and in history at Bluffton—from being able communicate effectively to being able to analyze data."