Tyson Goings
07/27/2015
Paying it forward
Tyson Goings is coming back in order to give back.
As the new director of multicultural student development, the 2001 graduate hopes to provide the same environment to students that his head football coach, Carlin Carpenter, afforded him during his Bluffton Hall of Fame career.
Tyson says he was content as a counselor at Lima Senior High School when his predecessor in the Bluffton position, Daryl Dowdy, talked to him late last year about coming back to Bluffton. But the more he thought about what the university has meant to him, the more Tyson considered the possibility of succeeding Dowdy as a way to take his grandfather's advice to pay it forward, he adds.
"Bluffton has allowed me to see a different side of life," including travel and exposure to the broader world, explains Tyson, a native of the Paulding County village of Latty.
After graduating from Wayne Trace High School, he came to Bluffton because of Carpenter, believing he had "somebody who was going to look out for what was best for me," he says. "That's the reason I came, and that's the reason I stayed," he points out, specifically citing "the family atmosphere he created for me."
He thrived in that environment, earning first-team All-Heartland Conference honors for three straight years while moving toward his bachelor's degree in recreation management. During his senior football season, in 2000, he was the conference's Most Valuable Player on offense after setting Bluffton's single-season rushing record with 1,487 yards and scoring 108 points
Not surprisingly, as multicultural student development director beginning Aug. 5, "my ultimate goal is to create a family atmosphere with the students I work with, so they're comfortable and want to stay, and go on to be the productive citizens we know they can become," Tyson says.
Teaching a Becoming a Scholar class in the fall and another course next spring, he sees his role as "helping the students grasp what college is about." That includes getting used to routines and planning and scheduling well, as well as developing stronger relationships with faculty and staff, he adds. He introduced himself to students by coming to campus on Wednesday nights beginning in March for activities and talks about campus and other current affairs.
Tyson holds a master's degree from Liberty University in professional counseling, which he completed between his previous professional stops at Starr Commonwealth in Van Wert and, for the last five years, at Lima Senior.
He was activities coordinator at Starr Commonwealth, which offers residential and other services for at-risk youth. He worked strictly with inner-city boys at first, then only with girls during the last two of his more than eight years at Starr. "I enjoyed working with the youth and providing them with a different outlook from the lives they were coming from," he recalls.
At Lima Senior, he started in the "Closing the Achievement Gap" program, which aims to guide at-risk male students of color to high school graduation. He then served two years each as dean of students—in charge of discipline and linking with community resources—and as a counselor who, due to his training, handled student mental health issues. He also worked with the football team's running backs as an assistant coach for four years.
With young people in both the social service and school settings, "I could relate very well to their situations," Tyson says, noting, for example, that like many of them, he grew up in a low-income household. There was "a genuine connection," he continues, "and they knew I cared."
That's the background he brings to Bluffton, where he already lives with his wife, Andrea (Lehman '04), and their children, Braylon, 8, Ariana, 4, and Jayden, who was born Aug. 3, 2015. The family moved three years ago largely because of Bluffton public schools' good reputation. "The choice was to come here for our kids," Tyson says. "It's just a great community."
-B-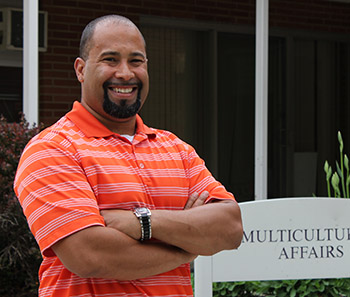 "My ultimate goal is to create a family atmosphere with the students I work with, so they're comfortable and want to stay, and go on to be the productive citizens we know they can become."