Golf Internship
07/01/2020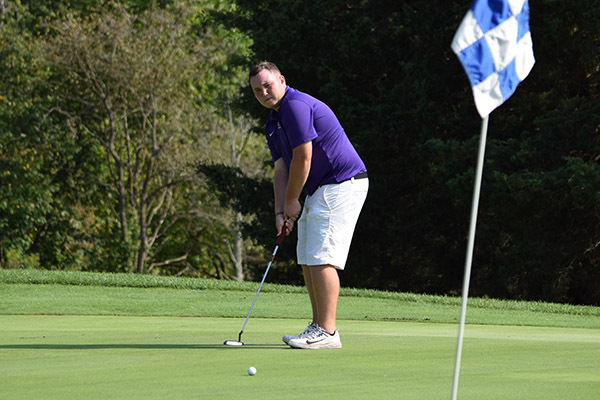 Bluffton junior gains experience with the Northern Ohio PGA
Thanks to the encouragement of his coach, the support of a teammate, and his own hard work on and off the links, Carter Mumbower is completing a paid junior golf internship with the Northern Ohio PGA this summer. Mumbower, a business administration and sport management double major from Carleton, Mich., is part of a team that is organizing and hosting golf tournaments for young people between the ages of 11 and 19 at a variety of courses.
"I enjoy providing kids with the opportunity to play competitive golf. It's something that I didn't have the chance to do when I was young," said Mumbower. "What I am learning during this internship and the experiences that I'm gaining will be very applicable to my future."
While he's not completely sure of his career focus following graduation, Mumbower's internship is giving him experience in marketing, management and tournament operations. He learned about the position through Adam Craig, Bluffton's head golf coach. On top of the internship, he's also working at Little Mountain Country Club. Both opportunities are based in suburban Cleveland, so Mumbower is staying with the family of his friend and teammate, Julian LaVallee '21.
"I will forever cherish and appreciate how much Julian and his family care about my career aspirations," said Mumbower. "Julian not only pushes himself academically and athletically, but he also pushes me and the rest of the golf team to the same standards he holds for himself. He helped prepare me for my interview for this internship and helped me edit my cover letter and resume."
Mumbower said he chose Bluffton because of its community atmosphere and because Bluffton provided him with an opportunity to pursue his career goals while continuing to play the sport he loves.
"When I was a senior in high school, I was looking for a school where I could play golf because I knew that being a student-athlete would really help me stay on track," said Mumbower. "While being a student-athlete can be difficult at times, it is also very rewarding. I love being a student-athlete at Bluffton."