James Grandey
Going to bat for DIII baseball
James Grandey is helping shape the future of NCAA Division III baseball in order to foster a better experience for student-athletes.
The head baseball coach has already served one year of a four-year term on the Division III Baseball National Committee.
"As a member of the national committee, my primary responsibility is to represent the Mideast Region," said James, who also chairs the regional advisory committee. "Basically, I serve as a liaison for all the baseball coaches in the region."
One of his primary tasks entails gathering data on all Mideast Region teams in anticipation of the selection process for the Division III national tournament. Of the 56 teams in the tournament, 40 are automatic qualifiers by virtue of winning their conference tournaments, while the other 16 are chosen by the committee.
"We use a set of criteria determined by the NCAA to select the teams we believe are most deserving," he explained. Among those criteria are win/loss percentage, strength of schedule, record in head-to-head competition and records versus ranked teams and common opponents. The 56-team field is whittled to eight teams that advance to the national championship in Appleton, Wis.
Ten of the 56 teams that made it to the tournament this year were from the Mideast Region. That, James believes, is a testament to the talent in the region, which includes 58 colleges and universities from Ohio, Indiana, Michigan, Pennsylvania and Kentucky.
In an effort to improve the tournament experience for Division III players, the committee is seeking to make the tournament's organization more similar to that of divisions I and II. "Right now, once teams earn their way to Appleton, we're an eight-team, double-elimination tournament, and that's not what DI and DII do," James said. The national tournaments at those levels have different formats, and "we want our format to be as similar to divisions I and II as possible," he added.
Throughout the year, James participates in monthly conference calls as well as an annual meeting at NCAA headquarters in Indianapolis. His responsibilities also include serving as the site representative at the Mideast Regional tournament—which was hosted by Marietta College this year—and joining the other members of the national committee as site representatives at the national championship in Appleton.
Being a committee member is time-consuming, but he is thankful for the opportunity to serve Division III baseball and its student-athletes. "I feel like I'm making a difference in DIII baseball," he said.
-B-
Chay Reigle, public relations office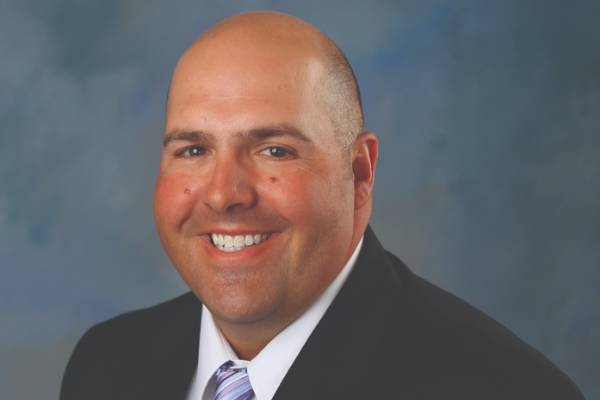 Being a member of the NCAA D3 Baseball National Committee is time-consuming, but James Grandey is thankful for the opportunity. "I feel like I'm making a difference in DIII baseball," he said.