Student internships
McCoy, Piero earn two of 20 supercomputing internships
Two Bluffton students are among 20 nationwide selected for an internship with one of the most powerful supercomputers in the world.
Matthew McCoy and Daniel Piero will spend the next year working on-site and remotely with Blue Waters, which is housed in the National Center for Supercomputing Applications (NCSA) at the University of Illinois at Urbana-Champaign. The internship includes a full-time commitment this summer.
Both Matt, a senior, and Daniel, a sophomore, recently attended a two-week workshop at the NCSA. From there, they returned to Bluffton to work alongside faculty in the mathematics, physics and economics departments.
Matt's internship has two parts, each exploring a different topic. The first part uses a foundation in physics to simulate the evolution in time of natural processes, as in the movement of molecules. The second focuses on global economics by running simulations to calculate median expected lifetime income and to measure income inequality.
He and faculty members "will be developing code to run the different simulations to complete the projects," the accounting major said. "My work will only be a branch of what everyone in the group will be doing."
Daniel, who is majoring in math and physics, will use coding to explore analogies to gravity.
The overall goal of the project is "to better understand gravity at a truly fundamental level by exploring, studying and analyzing certain physical phenomena that might be seen as 'analogies,'" he said.
When working away from the NCSA, Matt and Daniel will have remote access to Blue Waters. They will present their research at the facility after completing their internships next May. They will also share it on campus—and possibly at one or more regional conferences as well—during the 2014-15 academic year.
Daniel will be modifying code that was created by Meron Dibia, a 2012 Bluffton graduate who participated in the Blue Waters internship her junior year. She said Daniel "will probably start from those codes to build his own program in order to get more data."
Once he has developed the codes, he will run simulations on supercomputers throughout the nation, including Blue Waters.
He "will be trying to get the research Dr. (Stephen) Harnish had been doing on his PC for years into a very detailed, complicated and fast computational analysis," Meron said.
Now a graduate fellow in the physics department at Ohio State University, Meron attributes her decision to attend graduate school, as well as the connections she gained with OSU, to her Blue Waters internship.
"I was not sure what I really wanted to do after graduation," she said. "However, after I met my fellow interns in the training program at the University of Illinois, I knew I wanted to do graduate work."
She hopes, she added, that Daniel "enjoys this new experience and makes long-lasting friends and mentors, as I did."
Over the next year, Matt is eager to gain the hands-on experience needed to start a career in supercomputing. "My hope is that not only will I be a better programmer, but I will learn more about these two areas of study so that it will help me out in my future careers," he said.
As a first-year student last year, Daniel was worried he would have no chance at landing such a renowned internship. After Harnish encouraged him, however, he decided to apply. "To be honest, at the time it was a shot in the dark for both of us," Daniel said.
He now expects the internship to be "one of the greatest and most extensive learning experiences" he's ever had, he said.
"Words cannot describe how blessed I am to have this opportunity," added Daniel. "I believe that this opportunity is absolutely a result of God working in my life."
Harnish pointed out that the internships offer not only "significant opportunities" for growth for the participating students and faculty, but "broader benefits" as well.
"The synergy between Matthew and Daniel's research and the work and scholarly interests of our faculty helps energize our departments," he explained. "Other students start to seek similar opportunities through their own independent studies and group research projects."
Internships, both past and present, "have more broadly grown the research potential of all Bluffton students as they highlight the many opportunities for collaborative student-faculty research that have been happening in all departments for many years," he noted.
-B-
Chay Reigle, Bluffton public relations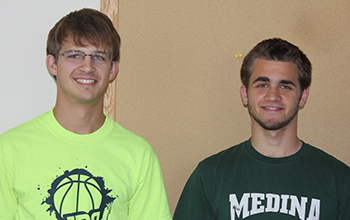 Bluffton senior Matthew McCoy and sophomore Daniel Piero are among 20 students nationwide selected for an internship with one of the most powerful supercomputers in the world.