New accessibility map
05/30/2018
Students develop campus accessibility map through new religion course at Bluffton
BLUFFTON, Ohio—A class offered for the first time during the spring 2018 semester at Bluffton University allowed students to both dissect issues surrounding the way disability is portrayed in the Bible and create a practical tool for improving mobility for people with disabilities on campus.
Dr. Alex Sider, professor of religion, developed the course titled "Historical and Theological Studies: Bible and Disability" to introduce students to emerging issues in the field of religious studies.
"A lot of our graduates go into professions for which this intersection is relevant," said Sider. "And, we have other courses on campus that focus on disability studies, particularly in the education, health science and social work curricula."
The class explored three questions:
How have religious traditions engaged concepts like disability and impairment?
What theories and practice promote the inclusion of persons with disabilities in religious traditions?
How can ableism in religious traditions, practices, concepts and patterns of thought be understood and dismantled?

Sider developed the class for both personal and professional reasons. While a college student, Sider's sister became very sick and his family is still dealing with the physical and psychological effects today. In his studies, he stumbled across literature on disabilities and spirituality.
"Much of it was new and exciting to me and it was so relevant to my family's experience with my sister's illness," explained Sider.
When he started teaching at Bluffton in 2006, Sider quickly discovered that many of his students were involved in their own struggles with chronic illness or disability, whether personally or through family and friends.
"Almost every person will experience disability at some point in her or his life. That is a given of the human condition," said Sider.
Students were drawn to the class for a variety of reasons. Emily Griffioen '19, a graphic design major from Belmond, Iowa, become more interested in accessibility issues because of a friendship she developed with a deaf student at Hesston College where she earned an associate's degree.
"With eyes opened to the idea of accessibility for all and the promise of impactful theology, how could I not take the class?" said Griffioen, who has since picked up a Bible and theological studies minor.
Blake Hershberger '18, an international peace, justice and conflict studies major from Canton, Ohio, took the class to gain credit for a minor but connected with the content.
"While I wasn't particularly interested in disability studies before the class, it became one of my favorite classes," said Hershberger. "I looked forward to it every week."
While completing his readings for the class, Hershberger found an article about a woman who had a challenging time visiting colleges as a prospective student because she was in a wheelchair. Discussion around the article led to the entire class creating a campus accessibility map which points out where the best places to park are, the location of elevators and the accessible-friendly entrances to each building.
"The map has the potential to help a variety of people from prospective students to alumni, from friends and family of students to community members," said Hershberger. "Through the class I've realized it's not just a nice, accommodating thing to do, but an obligation as followers of Christ."
"In class, we didn't dance around hard questions," said Griffioen. "We tackled them. We found real applications for what we were learning."
Sider explained that the ability to develop interdisciplinary courses such as this one is a key reason why he teaches at Bluffton.
"I'm trying to provide an opportunity for students to dig deeply into a subject matter that will transform how they think about their place in the world," said Sider. "That's one of the overarching commitments that we all have as teachers at Bluffton."
-B-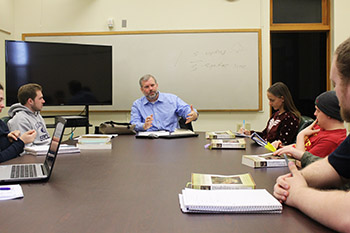 "Through the class I've realized it's not just a nice, accommodating thing to do, but an obligation as followers of Christ."