Alexis Link '21
05/24/18
Hearing colors: Bluffton student researches sensory condition
Have you ever wondered what the color purple sounds like? Maybe it's like a symphony from Beethoven or perhaps an upbeat jazz tune. For Alexis Link '21, sound and color collide in amazing ways due to a sensory condition known as synesthesia.
The Galion, Ohio, native researched synesthesia to develop a better understanding of the condition in hopes to spread advocacy. The project was completed as part of the Becoming a Scholar class, a specialized course designed to help first-year students transition into deeper, college-level learning. During the class, each student develops a research project that seeks to engage their major and personal interests.
For Link, personal clarity about synesthesia was her main priority. "I had really thought I was crazy as a kid," she said.
Now entering her sophomore year, the art and music double major plans to continue her research throughout her academic journey at Bluffton. "It's a pretty broad condition," Link explained. "I want to continue learning about this, and I'm interested in having my own studio and helping other people. I feel like that's why I'm here."
Synesthesia is a "combination of the senses," where things like sight and sound can intertwine and trigger involuntary responses between each other. Link experiences chromesthesia, a form of sound-to-color synesthesia in which she often hears colors when listening to music.
"When I'm listening to a piece of music I get a feeling that really takes over all of my senses, and it can be really distracting at times," said Link. The condition can be amplified with anxiety or if she is really focused, but "everybody is different," she explained.
Link discovered the true term for her unique ability when her high school art teacher, who also experienced synesthesia, talked with her. "She noticed that I would paint to music," said Link, "and she talked to me about it and asked me a bunch of questions. That's how it was brought to my attention."
Although listening to music while doing homework can become an impossible task, Link still finds plenty of positives amidst the distractions. "It makes watching movies awesome. You just feel really in tune with everything," she said. "I've never had super negative experiences with it, it's always been rather positive."
Link's experiences with synesthesia may allow her to view music and art in a whole new way, but she understands the challenges that others may face when they are unaware of the condition.
"It can be really confusing, and that's why I think bringing things to the attention of the people is important," said Link. "I'm not the only person out there with this and the more people that are aware the better. That way, we can live with it in a more productive way."
-B-
Cara Echols '19, Student News Writer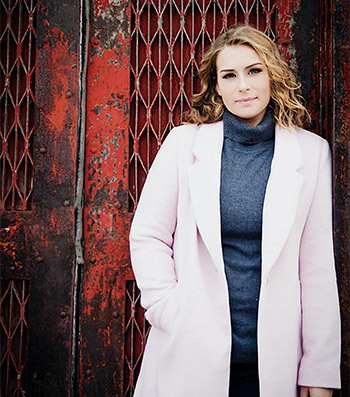 "It's a pretty broad condition. I want to continue learning about this, and I'm interested in having my own studio and helping other people. I feel like that's why I'm here."