Expect the unexpected
05/26/2020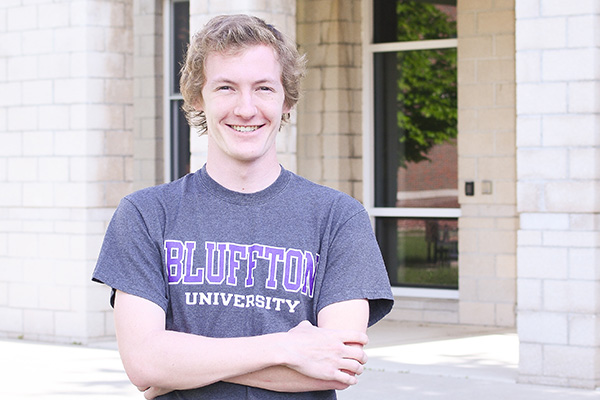 Finding the 'unexpected' Through residence life
When Nicholas Hoffman '20 began his studies at Bluffton University, he didn't expect much out of his college experience.
"In high school, I walked around generally unnoticed and kept to myself and just followed my routine. I thought college would be the same," explained the accounting and business administration double major from Lima, Ohio. "I would have never expected that by my senior year, I would be saying 'How's it going?' to almost every person I passed going to my classes because they were my friends."
Hoffman originally chose Bluffton to play soccer but was drawn out of his shell by opportunities in residence life.
"I had been playing [soccer] since I was 4 years old, so I couldn't pass on that opportunity," said Hoffman.
On top of playing soccer at Bluffton for three years, Hoffman was also active in the Esports Club. He served as a resident advisor in Hirschy Annex for two years, and this past year he was the hall director in Neufeld. During the 2020-21 academic year, he will continue to live and serve at Bluffton as the hall director in Neufeld.
"I can't wait to help a new set of RAs develop their skills as leaders on campus and even help guide next year's new HDs," Hoffman said. "My experience in residence life has taught me an incredible amount in terms of how to approach different situations involving people and many other skills that will remain useful."
While working at Bluffton, Hoffman will continue his studies through Bowling Green State University's Master of Accountancy program.
"I feel extremely prepared for grad school. I'm confident that my professors at Bluffton have taught me everything I need to know, and that I'll pick up on new concepts. It will be a new environment, but that just makes me even more excited."
Outside of his major, he credits his first-year Becoming a Scholar class professor, Tyson Goings, and Dr. Alex Sider, professor of religion, for challenging him to think outside the box.
"Learning to view things in different lights has broadened my perspective indefinitely."
Hoffman joked that he could write a book about all of the life lessons he learned at college. Instead, he shared five tips for getting the most out of living and learning at Bluffton.
Don't sweat the little things.
Find something on campus that you might enjoy and just try it.
Put your keys somewhere you will notice every time you leave your room.
Don't eat the same thing at Marbeck every day. Try new things.
Don't be afraid to ask questions—to professors, coaches, RAs, anyone.
But if that's too much to remember: "Just expect the unexpected and enjoy everything."