Big Opportunities for Art Major
05/22/2019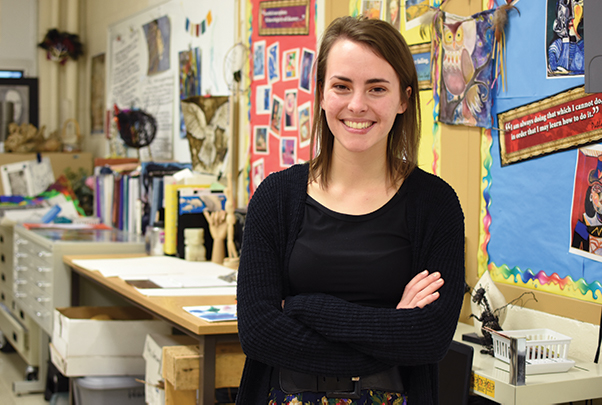 Bluffton's small-school atmosphere provides big opportunities for art education grad
Elizabeth Luersman '19 followed her big sister to Bluffton University and now she's following her into the professional world of teaching, but along the way, Luersman forged her own path and took advantage of all the opportunities available at Bluffton. In the fall, she will start her journey as an art teacher at Lima Central Catholic High School.
"I feel prepared to be a teacher," said Luersman, an art education major from Ottoville, Ohio. "Bluffton is really good at preparing education majors to be in the classroom."
Luersman chose Bluffton after visiting her sister Sarah Luersman '16 on campus.
"My sister gave me an unofficial tour, and I saw Andi [Baumgartner, associate professor of art] in the art building and he showed me around," said Luersman. "It was very casual but it felt real. That's what I was looking for in a college. I liked the smaller class sizes and both the education department and the art department are great here. It just felt right."
At Bluffton, Luersman was involved in pep band, concert band and the honors program for four years; performed in the musical and served as a C. Henry Smith Scholar for two years; tutored at Bluffton Elementary and the Allen County Juvenile Detention Center; and joined the Sustainability Club in her senior year. She also worked as an art department assistant for four years.
"It was crazy intense at times, but being involved in so much was a wonderful experience," said Luersman, who also spent four weeks studying art in Italy during a summer with CIEE, a nonprofit study abroad program.
"I loved going to the churches and seeing the art. It was just beautiful. You would go in the church and just see history come alive. In the U.S., we're like, 'Wow, this building is 200 years old,' but in Italy that's pretty new, especially in Rome."
During her senior year, Luersman challenged herself to complete a senior departmental honors project. Titled, "The Day I Lost My Colors," Luersman wrote and illustrated a picture book that depicts the effects of depression and anxiety on children.
"Throughout the book, the colors start to dull and eventually there's almost no color, but at the end she starts her path to healing and there's just a hint of color again. I intentionally didn't end the book with all of her problems solved because it opens up the conversation for readers," explained Luersman. "To me, that's the most important thing."
Luersman finished the book while completing student teaching at Bath High School. Her coordinating teacher was Sarah (King '03) Hartzler, a fellow Bluffton graduate. The two instantly bonded over their shared experiences.
"She is a great teacher for me to look up to, and she's taught me so much about teaching art and just art itself," said Luersman. "Plus, we had a lot of fun talking about things she remembered about Bluffton."
Whether it was with friends, alumni or professors, Luersman will take the connections she made as a Bluffton student wherever life takes her.
"That's the benefit of being at a small school. I was able to form personal connections," said Luersman.
Now it's time for Luersman to do the same in her classroom.