The Witmarsum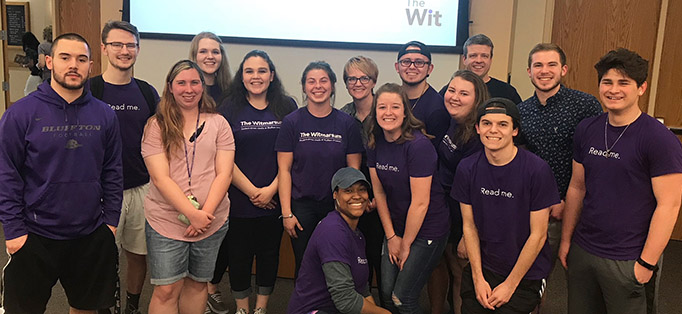 05/16/2018
Student news undergoes transformation
With more than 230 posts in 2017-18, Bluffton's student news organization "The Witmarsum" surpassed its content goal by 50 stories and has certainly undergone a transformation in the past two years. The turnaround was led by Marathana Prothro, assistant professor of communication, who took on the charge of revamping Bluffton's student news source after accepting a faculty position at Bluffton in 2015.
"I immediately recognized the potential around me," Prothro said. "The key was striking a balance between setting high expectations while also developing students' skills and confidence in their ability to do more than they initially imagined possible."
Bluffton's original newspaper, "The Witmarsum," was started by the Bluffton College Press Club in 1913 and served as the primary on-campus news organization until the spring of 2010 when the traditional print version was discontinued and replaced with a web-based source called the "Bluffton Connection." With hopes students would "feel like they were part of a bigger story," Prothro utilized the foundations of "The Witmarsum" in the rebirth of the campus news source which includes online news, radio, video features, sports broadcasts and podcasts.
However, "The Wit" is "more than a newspaper," explained Claire Clay '18, a public relations major and former copy editor for the news service.
Feature articles, point-counterpoint opinion pieces, sports coverage are just a few outreach points "The Wit" offers to highlight the latest news.
"We really try to reach all people on campus," said Clay.
Because of dedicated student employees and volunteers, student-driven news for the campus community by the campus community is growing.
"It has been one heck of a ride on this transition," said Tyler Avila '19, a broadcasting and journalism major. "During my time here, we have made something special, and I cannot wait to see "The Wit" grow so we can tell more stories."
Now, even more students are serving as paid staff, submitting stories through required practicum experiences for the convergent media major and simply joining "The Wit" for the love of writing, broadcasting and sharing stories. Working with their peers, students also gain practical job experience.
"I learned so much from the people I'm around and from Marathana," said Clay. "Plus I got to work hands-on with what I was being trained in class to do."
Avila is excited about the future of the organization. He served as "The Wit's" program director for the radio station, 96.1 The Wit, in the fall semester 2018 and continued to serve as a play-by-play sports commentator.
"The Wit" offers the campus community and beyond a source of great information for our student body," said Avila. "It also offers a sense of belonging. I love what I do, and we bring very interesting stuff to our readers and listeners. I am so grateful to be a part of it."
Cara Echols '19, PR Student News Writer
Updated 04/26/2019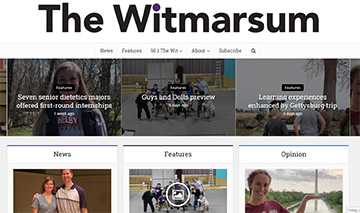 ---
The Witmarsum is Bluffton's news source, providing student-produced online news, radio, video features, sports broadcasts and podcasts.