Ryan Golden '18
05/03/2018
Senior demonstrates diligence on the field and in the classroom
Ryan Golden, a senior from Findlay, Ohio, is standing out on the baseball field for both his batting average and his unique mustache styling.
"Last year I just convinced some of the guys to grow mustaches as a joke for spring training in Florida," Golden explained. "But this year, I thought I would take it a step further and started letting it grow out completely back in November."
For six months, Golden has been sporting a handlebar mustache. However, his distinctive choice of facial hair isn't the only thing setting him apart. During Bluffton's athletic awards ceremony, Golden received the A.C. Burcky Award as senior male athlete of the year, in addition to being a two-time Academic All-HCAC award winner. He will receive the honor again at the end of this season.
"I enjoy the game and the competition," said Golden. "Just getting to be around my friends is great. It's just a good group of people."
A business administration and accounting double major, Golden's academic achievements are also quite impressive. He is the sixth recipient the Beaver-Falcon MAcc Scholarship, a Bluffton-Bowling Green partnership that includes a full-tuition award plus a paid graduate assistantship for a Bluffton accounting graduate entering into BGSU's master of accountancy program. There he will be able to complete the 150 hours of study required to sit for the Certified Public Accountant (CPA) exam.
"I came to college as a sports management major, but as I really began to figure out what that was, it turned out to be a lot of behind the scenes work," Golden said. Reconsidering his academic goals, he took a class in accounting. "Honestly, I just really liked it," he said.
"I thought, 'hey I enjoy this and I'm pretty good at this' so that mindset kind of turned me more toward taking up accounting and business."
Professors like Dr. Jason Swartzlander, associate professor of accounting, and John Burkhart, assistant professor of accounting, were instrumental in shaping Golden's new academic path. "After I learned more about accounting through Jason and business from John I decided that being a CPA would be a good route."
Golden will be focusing in public accounting during his studies at BGSU and is considering the possibility of continuing his education in the future. "I think long term it would be cool after working for a while to go back and get my doctorate and go back into education as a professor," he said.
His other campus involvements have included serving on Marbeck Center Board during his freshman year, working on the planning committee for homecoming court, working in the Learning Resource Center as a business tutor, serving as an resident advisor (RA) for Ramseyer Hall, and performing as J. Denny Beaver during the 2016-17 season.
Golden is confident in his next academic steps, and while his mustache didn't make it to the end of the baseball season, his hard work and diligence in and out of the classroom will continue to show.
-B-
Cara Echols '19, PR Student News Writer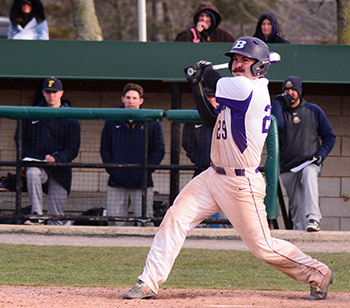 Professors like Dr. Jason Swartzlander, associate professor of accounting, and John Burkhart, assistant professor of accounting, were instrumental in shaping Golden's new academic path. "After I learned more about accounting through Jason and business from John I decided that being a CPA would be a good route."