Peace book club
05/09/2018
Bluffton faculty/staff discuss education, peace and the universe
During the spring 2018 semester, more than 20 Bluffton University faculty and staff members gathered weekly to discuss the importance of a peaceable vision of education in and beyond Mennonite schools, colleges and universities. The foundation of their discussion was the book "Education with the Grain of the Universe," edited by J. Denny Weaver, professor emeritus of religion.
Faculty and staff held weekly conversations with hopes to find new ways to implement peace into education throughout the campus community.
"Education with the Grain of the Universe," is the 11th volume of work published in Bluffton University's C. Henry Smith Series. The book offers a collection of essays stemming from a conference in the fall of 2015 titled "Mennonite Education: Past, Present and Future" held at Bluffton University. Many of the chapters are from current and former Bluffton faculty members and alumni.
"The primary argument of the book is laid out in the first chapter with the story of Jesus," said Dr. Gerald Mast, professor of communication. "It claims that in the life, death, teaching and resurrection of Christ, we find a manner of existence, particularly a love for enemies and living with vulnerability, which is reflected in the way the universe works."
"Because I'm creating a new curriculum, these discussions have really expanded my thought process about how intentional I am about bringing dialogue about spirituality, our university's Mennonite heritage, and our sense of service, community and respect into play in the classroom," said Dr. Sherri Winegardner, director and associate professor of nursing.
The interconnection of a variety of academic disciplines helped to foster a greater discussion about peaceable living and the order of the cosmos.
"The experience of an interdisciplinary conversation where we're able to share in the context of the things we really care about, and for many of us the reason we teach at Bluffton, is to me the most impactful thing more than any idea so far," said Mast.
Louise Matthews, director of The Lion and Lamb Peace Arts Center, uses the center to teach students as early as kindergarten about the impact of peace. "Peace is good for everybody. It's not just for Mennonites," she said. "And as it just happens, peace is Jesus' way of loving people. For me, my work is just the relevance of attitudes, actions and reactions that reflect Jesus' way of responding to people around us."
"From somebody who doesn't come from a Mennonite background, these discussions are an expansion to my understanding beyond this immediate world of Mennonite leaders, scholars, teachers in so many ways," said Shari Ayers, director for the Center for Career and Vocation, who utilized the discussions to highlight connections between peace, the universe and future vocation.
Faculty and staff hope that Bluffton's mission and vision is being carried on by its students and alumni, but they ultimately hope that students' four years on campus are filled with peaceable and transformative experiences that showcase a vision for peaceable education."
"It's not the Bluffton way to insist on these things," said Mast. "But it is the Bluffton way for people who are excited, enthused and inspired by that kind of vision to be supported by conversation."
-B-
Cara Echols '19, Student News Writer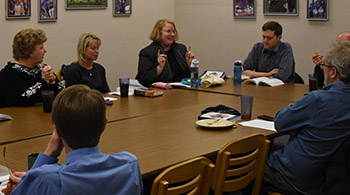 "The experience of an interdisciplinary conversation where we're able to share in the context of the things we really care about, and for many of us the reason we teach at Bluffton, is to me the most impactful thing more than any idea so far."