April Misamore '18
05/02/17
Food and nutrition major wins competitive scholarship/earns selective internship
April Misamore '18, a food and nutrition major from Findlay, Ohio, recently received two back-to-back recognitions that emphasize the hard work and dedication she's put into her academics. Misamore earned a competitive, paid internship this summer at Purdue University and won the Ohio Nutrition Council Scholarship. She will begin the internship after completing her cross-cultural experience in Chicago during the May-term.
"I came to Bluffton and I learned about dietetics from Jeanna Haggard (assistant professor of food and nutrition), and I liked everything about it," she said. "Jeanna has really encouraged me to just get out of my comfort zone and go work somewhere else for the summer instead of staying at home. I'm excited to visit a new place."
With the internship's focus on the food service, dining and catering aspects of dietetics, Misamore plans to use the opportunity as a way to better develop her culinary and management skills.
During her internship, Misamore will be working in rotations throughout different areas of food service. "Since I think this is the area of dietetics I want to go into, I'm really hoping this experience will open my eyes and tell me whether I really want to do this or if I should go a different route," she explained.
Misamore feels Bluffton has offered her substantial help in preparing for the internship. "We do a lot of projects and hands on things as opposed to primarily being in the classroom, so I think that was very helpful and definitely will be useful during this internship," she said.
She recalled her participation in the Wellness Expo held on campus during Celebrate the Library Week as a true learning experience. During the event, she spoke to faculty, staff, students and community members about the health benefits of a calcium-rich diet and shared recipes and food samples. The Wellness Expo gave her a hands-on, innovative experience with production, preparation and planning of recipes for cooking demonstrations.
"That was a very new experience for me, but it turned out great, and I know that experience will be useful for the remainder of my dietetics education, as well as my career someday. I think that gave me a little bit of confidence in the fact that the internship is something I need to do," she said.
"It might be out of my comfort zone," Misamore said, "but it's worth it in the end."
-B-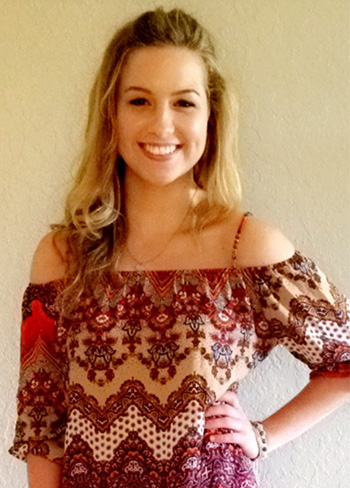 April Misamore '18
---
"I came to Bluffton and I learned about dietetics from Jeanna Haggard (assistant professor of food and nutrition), and I liked everything about it."