May Day
05/04/2016
Dance is a family affair for Cara Echols '19
Bluffton University's May Day tradition of first-year students dancing around the Maypole is often filled with students whose families have a long legacy with Bluffton. However, for one of this year's 16 dancers, the legacy holds even greater significance.
Cara Echols '19, an art and writing major from New Bremen, Ohio, is wearing navy blue this year. It's the same color her parents wore as May Day dancers 30 years earlier.
"They were very excited when they found out. They were like, no pressure, but make it perfect," Echols joked. "I don't feel too nervous following in their footsteps because we have a lot of good people dancing. I'm just excited to see how it turns out on the day."
Echols parents, Roosevelt and Julie (Bibler) graduated in 1988. They were friends when they were matched for the Maypole dance. However, after spending weeks preparing for May Day, their friendship evolved.
"After May Day, my parents became really good friends. Their relationship grew from their interactions on May Day and the time leading up to it," said Echols. "I consider it a great honor and privilege to be a dancer. It only makes it more special since my parents were May Day dancers too."
Echols and the other 15 dancers practice twice a week to prepare for the big event.
"So far the practices have been really good," Echols said. "We try to stay organized. There's a lot of skipping and prancing, which can be interesting, but the practices have been really fun."
The dance celebrates the end of the academic year, the beginning of a new chapter for graduates and the remembrance of times past for alumni.
"I think it really just integrates first-year students and the alumni," she said. "It's a fun tradition that is just important because it's been this way for so long."
Echols will carry the family torch, or in this case the family ribbon, during the May Day ceremony which begins at 1:30 p.m. on Saturday, May 7, on the Centennial Hall lawn. The ceremony will also feature speeches by the 2016 May Day King and Queen.
-B-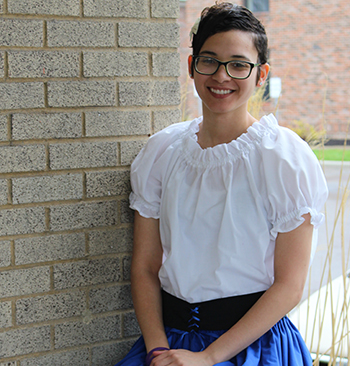 Cara Echols
---
"They (my parents) were very excited when they found out. They were like, no pressure, but make it perfect."