Using TESOL skills
04/27/2022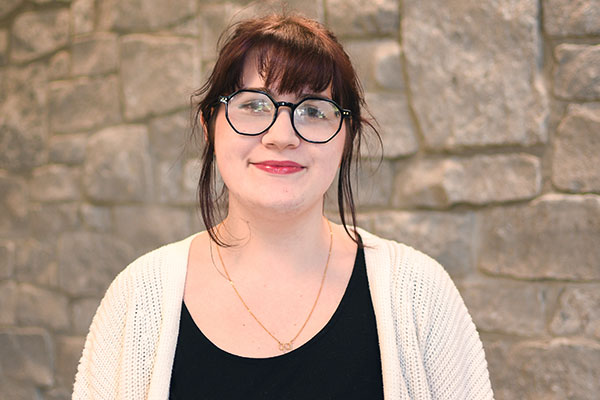 Horner to use TESOL skills in Palestine
Anneliese Horner '22, a TESOL (Teaching English to Speakers of Other Languages) major from Kidron, Ohio, plans to explore the world following graduation. Her ultimate goal is teaching English as a Foreign Language (EFL) in South Korea, but she can also see herself pursuing a master's degree in TESOL.
"What's great about TESOL is that there are opportunities literally everywhere," said Horner.
Confident in knowing she wanted to pursue a career in TESOL, Horner chose Bluffton because many other schools didn't offer it as a major, and with her Mennonite background, she always knew she'd pick Bluffton.
"I had been hearing about Bluffton my entire life," said Horner. "Once I came, I definitely became more confident that this [Bluffton] was a good choice for me."
On campus, Horner works in the religion department and the writing center. She is also involved in SERVE club leadership.
Horner is gaining hands-on teaching experience through a practicum course where she provides English lessons to four employees at GROB, a global manufacturing company with a location in Bluffton. Twice a week Horner meets with the adult learners, who are all from Mexico, to improve their English skills and annunciation.
While most already know English, she is focusing on helping the adult students sound out vowels and constants or find the best wording for an email or upcoming interview.
"Even though I'm not fluent in Spanish, it has helped that there are different levels in the classroom," said Horner. "If we can't figure out how to word something, there might be someone in there who might know the right word."
Because she doesn't have a set curriculum, Horner must find creative ways to build a two-hour lesson plan for the learners. The tricky part is finding balance between learners, who all have a different skill level. Sometimes she gives them exams to check how they are formulating sentences or if they are missing tenses.
"This is something you would see often in a TESOL classroom," said Horner. "You have to work with students on different levels."
Following graduation, Horner is committed to traveling to Palestine for 11 months with SALT (Serving and Learning Together), a cross-cultural learning experience organized by Mennonite Central Committee. She will help establish an English club and work as an assistant English teacher.
"I will definitely be challenged because the majority of my students will be Muslim," said Horner. "Being more conscious about religious beliefs and cultural differences is going to be a challenge, but I think it is going to be a fun a challenge."