Brothers and teammates
04/21/2020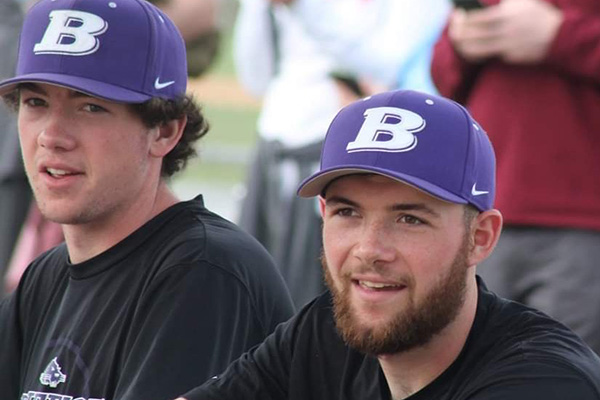 Brothers share memorable experiences
Brantley Curnutte '20 and Carson Curnutte '22 were both drawn to Bluffton University because of the beauty of campus and the relationships they built while visiting. However, it was mainly Bluffton's baseball program that shaped their college experience and their relationship as brothers.
"Playing baseball at Bluffton was the best decision I've ever made," said Brantley. "Being a student-athlete is not easy at all, but it's taught me so many life lessons like communication, responsibility and passion."
"My experience with the baseball team has been more than I could ever ask for. The friendships will last a lifetime, and I know the guys will always have my back." said Carson. "It has also been a blast competing at the college level, which was a dream of mine since a very young age. Being a student-athlete can be difficult at times, but it's 100 percent worth it."
At the beginning of his junior season, Brantley, an adolescent/young adult history education major, suffered a season-ending UCL tear.
"Recovery was one of the hardest things I've ever done. I wanted so badly to be 100 percent," said Brantley. "I had great coaches, family, friends and athletic trainers to help me recover. Having such an excellent support system is what helped me the most."
It took him 12 months to recover, but because of the timing of the injury, he regained a year of eligibility and returned to Bluffton for a fifth year. When he left for college in 2015, the brothers had gotten closer, so Brantley was excited to learn, grow and play together – even if they play the same position.
"I was so excited when Carson made the decision to attend Bluffton. Not many people get the chance to play the game they love with the ones they love," explained Brantley. "The best part about it is that Carson pushes me to be a better pitcher, and I like to think I push him, as well."
As the younger brother, Carson, an accounting major with a math minor, had a little more difficulty transitioning from brothers to teammates.
"Playing baseball with Brant was definitely something I had to get used to. Since he was a leader on the team, I saw him in a totally different state than I've ever seen him," said Carson. "During my freshman year, I messed up a drill and he started to get on me a little. Part of me questioned whether I start fighting him like I would at home, or if I sit there and take it. I had to adapt."
The Hilliard, Ohio, natives are grateful for their time together at Bluffton, but are looking ahead.
Next fall, Carson is looking forward to coming back to Bluffton for his junior year, especially the spring games in Florida.
"My favorite experience as a Beaver has been our spring games in Florida because I get to play the game I love and develop a bigger bond with my teammates," said Carson. "During my freshman year, I became a lot closer with my teammates, especially Spencer Garrison '22 and Cam Clark '19, and that experience changed our friendship forever."
After graduation, Brantley hopes to stay involved with the game of baseball as a graduate assistant for a college team, or get in his own classroom and become an educator.
"The most important thing I'll take away from Bluffton is the relationships I've built. Making and having these relationships are what makes the college experience fun," said Brantley. "Bluffton always felt like home to me, and that is mostly why. I'm going to miss it."