Sarah Heydinger '21
04/11/18
Three-sport student finds balance between athletics and academics
Sarah Heydinger '21 of Tiro, Ohio, is jumping hurdles in the classroom and on the track as she works to balance her academic and athletic ambitions. A double major in art education and pre-art therapy, Heydinger works hard to be a diligent student while also being a member of the volleyball, indoor track and field, and outdoor track and field teams.
"I've always been athletic, and sports have always been in my life," Heydinger said. "They've helped me gain team building skills and social skills, and they keep me in a routine."
Heydinger enjoys the small size of Bluffton's campus and the inviting atmosphere that the professors offer, but as a first-year student she has enjoyed the family-feeling she experienced on the volleyball team most of all.
Having been involved in track and field, volleyball and basketball in high school, Heydinger was accustomed to a full schedule both in athletics and academics. Although she wasn't originally recruited by the volleyball team upon her admission to Bluffton, she made a personal effort to approach Steve Yarnell, head volleyball coach, with hopes to be a part of the team.
"I actually came in as a walk-on, and I didn't know if coach felt like I was going to bring anything to the team. But I worked my way up from JV to a starting position. That felt great as a freshman," she said.
In track and field, Heydinger performs in the indoor and outdoor hurdles, high jump, four-by-four relay and 400 meter hurdles.
Setting aside time and working with her coaches, Heydinger has found good balance in her academic and athletic life thus far. "Our coaches are really understanding and put academics before athletics" she said. "I was a student-athlete in high school so it doesn't really seem that different. It's hard sometimes, but I have to make sure I have enough time to get my academic work done so I can participate in all of my events."
While sports will always be something that sticks with Heydinger, she looks forward to teaching art and offering help to others. "I've always liked art, and I want to do something that I enjoy. I also like the feeling of helping people," she explained. She hopes to be able to help both young people and the elderly through art education and therapy methods in the classroom and beyond.
As a three-sport athlete and a double major, finding the right balance can sometimes be difficult. But at the end of the day, Heydinger knows she has to focus on being a student first when it comes to being a student-athlete.
"You have to have a mindset that you're coming to college to get an education and use athletics as a motivation for your academics," she said. She encourages other student athletes to use their four years "to play what you love" but always remain focused.
-B-
Cara Echols '19, Student News Writer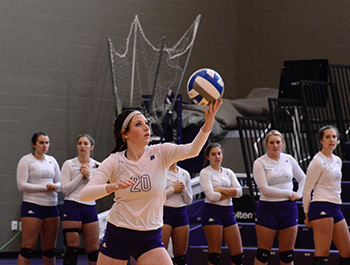 Sarah Heydinger '21
---
"I've always been athletic, and sports have always been in my life. Sports has helped me gain team building skills and social skills, and keeps me in a routine."