Laura Galley '18
04/03/18
Bluffton senior to continue nutrition research at Cornell Ph.D. program
Laura Galley '18 a nutrition and dietetics major from Cumberland, Ind., was recently accepted into the Ph.D. program at Cornell University. There she will study nutrition science with a concentration in human nutrition and minors in developmental physiology and epidemiology. Through this program, Galley hopes to discover new links between diet and health in an effort to improve the lives of women and children.
"Nutrition impacts everyone, everyone eats. And eating is not only a social thing that we do but also a metabolic processes that affects your health," explained Galley. "So I really hope that somehow the research that I love doing will positively impact people's health."
Galley's research will focus on "the link between nutrition, metabolism and fertility in women" at Cornell's Lujan Laboratory. One area she plans to explore is polycystic ovary syndrome (PCOS), a hormonal disorder that affects the female reproductive system and can complicate fertility.
"There are not a lot of dietary recommendations or nutritional regiments for people with PCOS to potentially reverse the issues, help with fertility or improve symptoms," said Galley. "My first task is going to involve doing more research to fill in those blanks in the education."
Many students majoring in nutrition and dietetics at Bluffton plan to become registered dietitian nutritionist (RDN) and work directly with patients rather than research. However, Galley found that Bluffton's program and professors prepared her for a future in research. Galley now encourages other students to discover the many opportunities available within their major.
"Make opportunities for yourself while you're in your undergrad experience, and talk with your professors about it," she said. "I had such great support because this was something that I wanted from the start, and they supported me."
Galley was able to get hands-on research experience this past summer through an internship at a soup kitchen in Indianapolis. She presented her findings, which also served as her departmental honors project, during an April 3 Forum presentation on campus.
"We were able to study if this food that we were providing gave these soup kitchen patrons adequate nutrition, if this is all they are eating," Galley explained. "Soup kitchens don't really receive much funding; so hopefully these facts will help kitchens get additional funding to have a dietitian come in and assist with menu planning or encourage dietitians to come and volunteer."
Galley believes Bluffton dynamically shaped her path forward and has prepared her for the next chapter in her education, especially the support of her professors and peers.
"Just how much the professors have cared is a huge part as to why I have this opportunity," said Galley. "Being able to see everything come together in a bigger way than I ever anticipated is amazing."
-B-
Cara Echols '19, Student News Writer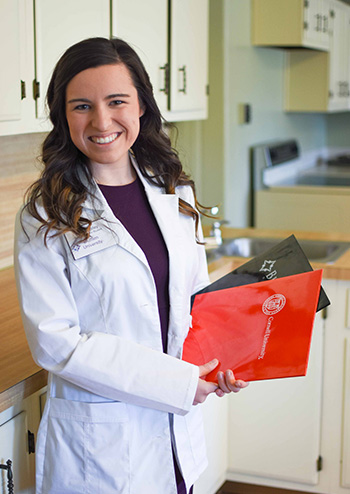 Laura Galley '18
---
"

Nutrition impacts everyone, everyone eats. And eating is not only a social thing that we do but also a metabolic processes that affects your health. So I really hope that somehow the research that I love doing will positively impact people's health."