Hannah Brown '20
04/18/18
Bluffton sophomore's dreams really do come true through internship opportunity
Hannah Brown '20, a graphic design major from Findlay, Ohio, traveled more than 1,000 miles away from home with the help of a little pixie dust to take part in an extraordinary internship experience. From January 16 through May 17, Brown is taking part in the Disney College Program, an opportunity for students to become part of one of the most magical places on earth.
"Working for Disney has always been a dream of mine," said Brown. "Walt Disney was 100 percent right when he said, 'If you can dream it, you can do it!' This program has taught me more than I could ever imagine."
The Disney College Program offers students the ability to gain work experience at many of the parks and resorts while taking college classes on site. The program also provides housing, allowing Brown to meet and live with fellow students from all around the world.
"My favorite thing about this program is probably the new friendships I've made with my roommates," said Brown. Additionally, being able to spend quality time with friends at the parks on days off has its perks. "It's so nice to go to the parks and relax and take it slow rather than try to cram in as much as you can in one day like you would on a vacation!"
During her for-credit internship, Brown is working full time as a PhotoPass photographer, allowing her to strengthen her photography skills and do one of her passions. "I am a hired photographer for Disney who takes photos of guests in tons of areas around the parks, and they can purchase the photos we take," she explained.
Brown's interactions with others has sparked surprising conversations, as Brown's name tag for work displays the university's name. Brown has now knows it really is a small world after all. "I have had several people come up to me and know exactly where Bluffton is! It's quite amazing," she said.
Her time at Disney has introduced her to many different types of people, and has encouraged her to evaluate how she responds to each situation she is presented with.
"I work with people from all around the world! Sometimes guests aren't the easiest or nicest," said Brown. "But Disney is the place where dreams come true. So I've definitely learned how to cooperate with all kinds of people, and I've learned so much about customer service."
Brown also has family ties to the program, as her aunt, who worked for the Disney Company for several years, had also taken part in the Disney College Program.
"I was definitely drawn to do the program after talking to my aunt," said Brown. "She only had positive things to say about it and said it was one of the best experiences she's ever had. She was my biggest inspiration when I applied."
The application process itself was a test of Brown's patience and persistence. She waited diligently for three months until she received her final call for placement in the competitive program.­­
"The process was overall easy, just like really any other job interview, but the waiting was really hard. Out of 50,000 applicants, only 6,000 were chosen this semester," she said.
Brown said the program pushed her to her fullest potential. It has provided her with a rich learning environment, wonderful friendships and a greater taste of true Disney magic. "I've learned so much!" she said. "And I've definitely been impacted by the different people I've meet here."
-B-
Cara Echols '19, Student News Writer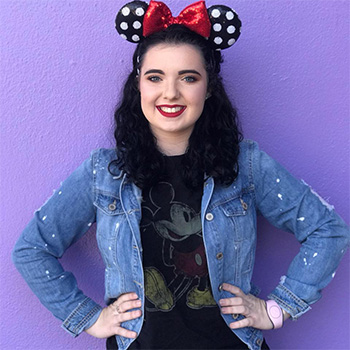 Hannah Brown '20
---
"Working for Disney has always been a dream of mine. Walt Disney was 100 percent right when he said, 'If you can dream it, you can do it!' This program has taught me more than I could ever imagine."