Wyatt Baer '18
04/25/18
Senior embraces student life in three-year college journey
Wyatt Baer '18 from Marshallville, Ohio, didn't choose an ordinary academic plan for graduation. The transfer student has completed three internships, is a member of the cross-country team, works as a resident advisor (RA) and will soon be pursuing his master's degree after just three years as an undergraduate student. While his hard work and persistence may have shortened his journey to a bachelor's degree, he's utilized his time to make lasting friendships and build a strong academic standing.
"It's been enjoyable and crazy," said Baer. "Being in a Mennonite school, I have a lot of connections being Mennonite myself, doing cross country, being an RA and just meeting people. It's been a good experience."
Having transferred from Hesston after completing his two-year degree, Baer came to Bluffton for many of the same qualities other students do. He made instant connections with teammates, enjoyed the community aspect of residence life and found a sense of peace being closer to home.
"It just seemed like a really good fit," he said. "I chose Bluffton because everything really just seemed to fall into place."
An accounting major, Baer will complete an internship at Progressive this summer, working in statutory accounting and gap reporting. In previous summers, he interned at Excel Industries in Hesston, Kan., completing general accounting transactions with vendors and Harper Industries in Harper Kan., with payroll accounts.
Baer's most passionate about corporate accounting, focusing on the business side of numbers and reporting. "I want to start a business someday," he explained. "Accounting is like the meat of the business major, so I just felt like having that knowledge would be a good place to start. Then when I start my own business that knowledge will be really helpful."
While his undergraduate experience is coming to an early close, Baer has emphasized the importance of making relationships with the campus community.
"I knew as a transfer student coming in, I didn't want people to be like 'oh, who's that new freshman' or something," Baer said. "Being an RA set me aside. I just really like planning events and getting in touch with the guys on my floor."
Upon graduation, Baer will continue his studies at Bowling Green State University, focusing on his master's in accounting. He received an academic scholarship specifically for Bluffton University accounting students as well as a graduate assistant position from BGSU.
-B-
Cara Echols '19, Student News Writer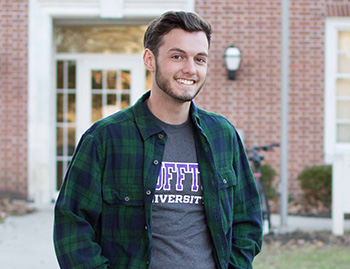 Wyatt Baer '18
---
"It's been enjoyable and crazy. Being in a Mennonite school, I have a lot of connections being Mennonite myself, doing cross country, being an RA and just meeting people. It's been a good experience."